This is the second weaving conference I've attended in the last month. Part of me really wants to retire from conferences, I wrestle with what my future holds, I've been attending weaving conferences since 1981. I was 26 years old. That's just about a year and a half older than my daughter. I remember my first conference, I think I was even interviewed for public television, and if I look hard enough, I might even find the video. The Mid Atlantic Fiber Association Conference, it might have been their first one. They had a swatch exchange that year. I had never participated in a swatch exchange. My weaving friend and guild mate, who actually attended MAFA this year, found this in their archives at the conference.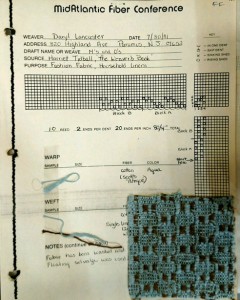 This was done the year before I moved to Lincoln Park. A lifetime ago… Of course the experienced me looks at it and says to self, "It should have been sett denser, 20 epi is too loose; the little motifs would have been more rounded with a better warp weft ratio." I was 26. Who knew where life would take me?
Anyway, I didn't attend MAFA this year, because I usually don't attend conferences unless I'm teaching. Last month I went to Indianapolis for the Midwest conference, where I taught a number of classes/seminars, and judged the fashion show, and moderated it as well. Two weekends ago, I headed straight from a painting class at Peters Valley to Northampton, MA, Smith College, and NEWS, that's New England Weavers Seminar for those not in the know.
I've had a lot of experience with conferences on University and college campuses. You do a lot of walking. And a lot of hauling. And every university it seems, starts a massive construction project as soon as the confetti from graduation settles. Smith was no exception, the library had construction fencing completely surrounding it, limiting access to many of the buildings.
I arrived early to NEWS, on a Tuesday evening and checked into my hotel room, an inn about a half mile up the road. The room was comfortable and I right away found the partiers, right across the hall, and I felt good this time, because I drove, I was able to bring a number of bottles of wine. Usually I fly and have no access to liquor, so I have to gratefully accept what is offered.
Wednesday morning I spent the day judging the fashion show, there were three of us. Though the work was lovely and well done, I mourn the fact that there are less and less garments, in fact two thirds of the entries I believe were scarves and shawls. There were a number of scarves and shawls that were sett a bit dense for the purpose, and I really wanted to take the scissors to them and turn them into some smashing garment! Anyway, I knew the other judges and they were all great to work with, and towards late afternoon we had to come up with decisions on the special prizes. I'm always relieved when there is an immediate consensus. And I'm always relieved when a committee is on top of its job and organized and eager. I don't have a single photo to show you because, well I never got to actually see any of the exhibits at this conference. My only free time was Thursday, and they were all still in set up mode.
Once I managed to get my huge suitcases to my classroom Thursday morning and arrange everything as best I could, I decided to take the day and do some of the things that had a personal meaning to me.
My daughter went to school at UMass Amherst, a stone's throw away, and on a couple of our trips to visit her, my husband and I would stop at a place called Magic Wings, up in Deerfield. It is a Magic place, a butterfly conservatory, or arboretum, where you sit, and watch, and listen to classical music, and see beautiful butterflies flutter from plant to plant, colorful, magical and so stress-less. When I got there, a summer camp group filled the space, and I sighed and waited patiently until the noisy jumpy kids and their stressed out leaders vacated. And then I sat. The staff I found to be really eager to show what they know, and many of them spent time filling me in on all the things to know about butterflies and the sensitive ecosystem they have to maintain. I took a number of photos. I may paint them. I know last time I was here with my husband he took about 200 photos. They are there somewhere in the archives. Maybe I'll paint them too.
I left Deerfield and drove back to Northampton and went here…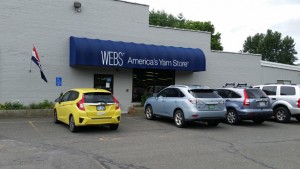 Of course. I really didn't need anything, really. But it was fun to look at all the yarn, and the tools, and I found this towel.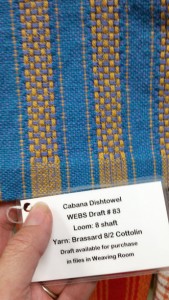 I bought the draft. I may weave this for my holiday towel gifts.
And I bought a few packages of Cushing dyes, I still have a box full, but no blues. I added some blues. I left with my credit card reasonably intact.
Smith College has the most wonderful art museum, and I took Thursday afternoon and explored. They had an exhibit on the excavated villages of Oplontis, near Pompei, yes that Pompei, it wasn't the only village decimated by Mount Vesuvius. The exhibit was unbelievable. 2000 year old fragments from beautiful friezes and painted walls, superimposed on digital recreations. Gold jewelry marked by which skeleton they were removed from. Loom weights, from warp weighted looms. The exhibit is there until mid-August, after which it returns to Italy. The theme of the exhibit was the juxtaposition of the working class and the upperclass, and in the end, it didn't matter what class you belonged to, everyone and everything was buried under volcanic ash for 2000 years. There was pottery and glass, gold and stone. I love discovering worlds that are so far from anything I've ever encountered in my lifetime.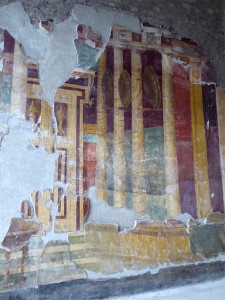 I wandered through the museum, they have a lovely collection of paintings from pre 1800 and post 1800 and I came upon a separate room, apparently a teaching gallery, where faculty select specific pieces from Smith's vast holdings, for study during that school year. I found this…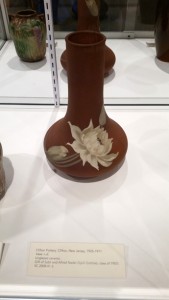 The label says Clifton Pottery, Clifton, NJ. I live about 15 minutes from Clifton, NJ. I had no idea that there was such a thing as Clifton Pottery, manufacturing from 1905-1911. There isn't much on the internet, but from what I've found, this is an unusual motif. It is usually stylized native american imagery.
I had the most lovely day, poking around favorite haunts, and being inspired, and I was ready for the festivities at the conference, starting with the keynote Thursday night, one of my favorite people, Tom Knisely. I just took a workshop with him back in April at my guild. I wrote about it here. He gave the same talk to our guild, on collecting and interpreting historic textiles and what they can tell us. It was a lovely start to the conference.
Friday night was the "shop 'till you drop" event after dinner. The student center was loaded with vendors, including WEBS. I chatted with so many old friends, hugged so many people, and on a couple of occasions, I actually pulled out my credit card. I don't need yarn, but I'm weak kneed at wood tool vendors whose tools have a velvety feel. I came home with these. StephenWillette.com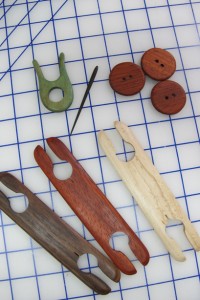 Yes, that is the most adorable miniature lucet, the thing to the left of the tapestry needle. Another tool for making braids.
And I stopped by the Mayan Hands booth, the fair traded goods from weavers in Guatemala were gorgeous, colorful and I couldn't get past the sea grass smell of the two round mats that slipped into my bag, perfect for my new round outdoor deck table.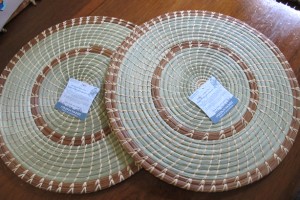 The next three days, I acted as teacher, mentor and slave driver, I had 13 students and they all had to get as close to completion on their vests as they could. Some nearly got there, many of them still had bands to apply, lots of handwork to complete. But they all turned out beautifully. Two students had to leave early for family commitments, but most of the students had handwoven fabric, and I'm hoping that a few at least will send photos of the finished garments. I was too busy cracking the whip to get close up photos of any of the vests. The last few hours of the class are always a bit of a panic.
And so I'm home, been home for a week already, trying to play catch up. There is a part of me that really finds conferences exhausting and not worth the planning and prep. And then there is the part of me that knows how much I love the contacts, and the inspiration, and the experiences, and the chance to see all the people I've come to love from a particular region, sort of like going to the biggest family reunion, with yarn, and tools, and books and great food and great people, and yeah… There's Reno next year. That's the big one… I'll be there…
Stay tuned…