Daryl's Excellent Northwest Adventure part 1…
I arrived in Seattle.
I found my ride.
We went right to a yarn shop.
Really.
As if I hadn't already done enough damage.
Best yarn shop on Bainbridge Island.
Really.
And so this followed me out the door and into the suitcase…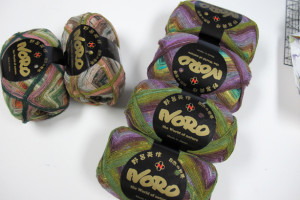 It was on sale.
Really.
They have Madrone trees in Port Townsend.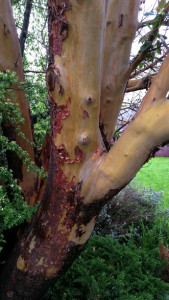 They are gorgeous.
The Port Townsend Guild was just wonderful to work with.  There were fourteen eager ladies, for a three day vest class, where we made story vests from their scraps and samples and samplers and treasures.  I love teaching this particular class because each little piece of fabric that we hold on to has a story.  And I heard many of them.  From fabric collected from another part of the world, to swatch and embroidery swaps, to fabric from a child's garment, to remnants from a bridesmade's dress, and quite a few repurposed items like a shawl from a Bonnie Tarses Workshop and a bias top from a Virginia West workshop,  all became something fresh and fun and personal.
They worked hard.  There was a lot of gnashing of teeth.  And a lot of rearranging.  And a lot of ripping out.  But every single vest turned out exceptional.  This was a talented and entertaining class.  I loved them all, vests and makers!
Take a look…
And dear Kathleen, who brought a panel from handspun, woven on her rigid heddle loom.  Once she decided to run with it, she whipped out her loom and wove a second panel for the other front.
So there you have it.  Mostly I don't get to see the vests finished, they do the final assembly once they are home.  Though my speedy and focused hostess Rebekah finished hers the morning after class and I got a shot!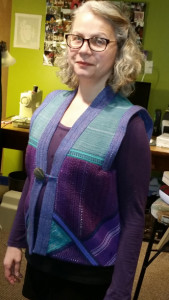 And Linda came to the Whidbey Guild meeting a week later and wore hers, completely finished.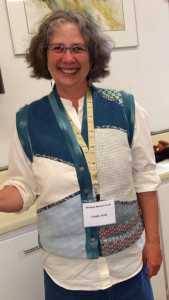 And then on the 7th 4th day she rested shopped…
Rebekah my hostess and Nora, one of the students and I toured around Port Townsend.  I fell in love.  Maybe someday in another lifetime…
We looked at cool architecture…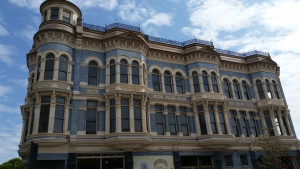 We looked at and had lunch on the Sound…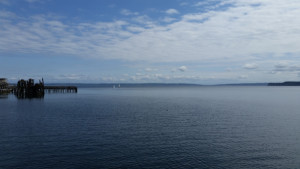 We shared book recommendations… I loved A Man Called Ove…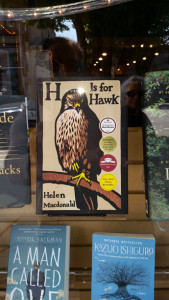 We looked in a couple funky boutiques and found this hat…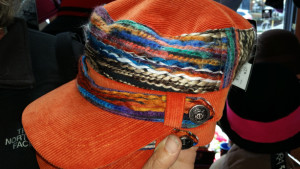 We looked in a gorgeous shop called Joglo that I actually wanted to live in, and I fell in love with this tile.  I want to redo my bathroom…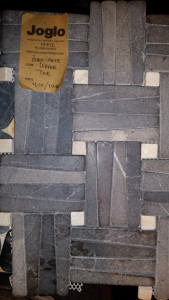 On to the next venue, across Puget Sound on the ferry, to Whidbey Island…
Oh, and if you are interested, I'll be teaching the same class at Fiber in the Forest, May 20-22, 2016 (Yes, that's in a couple of weeks!), in southwest Oregon. Click here for more information!
Stay tuned…