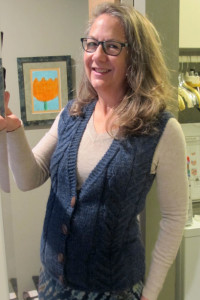 I finished my cabled vest.  I was worried it was a bit too small.  Fits like a glove.  (DROPS waistcoat, Berroco Peruvia Wool)
Honestly I didn't expect to get this finished until about February when I started traveling again, since I mostly knit when I'm traveling on planes.  But then I found myself sitting endlessly at radiation, at chemotherapy, at doctor's appointments.  Waiting…  Waiting… Waiting…
Knitting is good.  It is portable.  It doesn't attract attention the way an inkle loom would, or kumihimo or something that isn't readily recognizable.  I've had some lovely conversations with others in those waiting rooms, about knitting, or crocheting, or wanting to knit, or failing to be able to knit as a child, or about relatives' who knit.  And there were a  couple of woodworkers too who jumped into the conversation.  Anything to talk or think about something positive and fruitful that comes from the hands, and not the reason we are all gathered waiting, in the first place.
There was a woman across the room from me yesterday in the infusion center, as I sat knitting my little vest.  She was knitting something grey, sitting next to her husband, not looking at what she was knitting, while the two of them watched the little personal TV they give you.  My husband full of sleep inducing drugs, slept through most of the hours we were there.  At one point, the woman across the way came over and asked me in the lowest of non disturbing voices what I was knitting.  There was a knowing nod between us.  I showed her the small picture of what the vest would look like from my crumpled and well marked up internet directions.  She smiled and said it was pretty.  I asked her what she was making.  I couldn't tell much from way across the room.  She said she was knitting a hat, she does that in between projects, hats for the chemo patients at the cancer center.  Hmmmm…..
OK, I'll admit I'm horribly selfish when it comes to what comes off my loom or off my needles or whatever.  I'm known as a pretty generous instructor, I'll tell you anything, probably more than you want to know, I'll readily share drafts of things that are mine to share (obviously not copyrighted stuff).  Crap, I'll even help you make it.  But I don't give away what I make, I enjoy it myself and I suppose that works for me.  The truth is, this is one of the few things I do for myself.  I make things that make me happy and proud when I wear them.  I bow to those who tirelessly knit for charity, weave for a cause, give away all the socks they knit (see the Yarn Harlot's latest blog post about her sock drawer).  Truth is I've knitted 12 pairs of socks.  They are all in my drawer and I wear all of them.
I have started weaving dishtowels, and giving them as holiday gifts to really close friends and family, and the occasional wedding present or two, but I'm still selfish with them.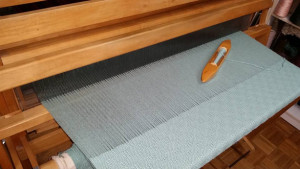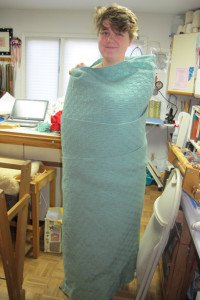 Even my daughter, faced with a bag of 30 skeins of sea foam acrylic yarn taking space in her closet, set up my loom, enough to weave five baby blankets, to use up what she had.  My daughter is not pregnant nor is she planning to be in the near future since there is no significant other on the horizon with which to share this milestone.   But her peers are starting to have babies, and she thought it might be an idea to get started weaving gifts.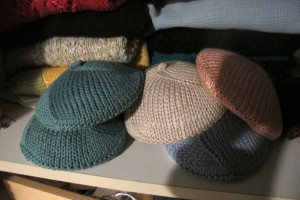 Last March, I was teaching in Colorado and one of the participants in my class approached me at the end and showed me a knitted breast prosthetic she was working on.  She had learned during the class that I had undergone treatment for breast cancer many years ago and had not had reconstruction.  She asked if I had seen these knitted prosthesis and I had heard of them, someone from my knitting group had told me about them, but not having issues with my silicone one, except for the ridiculous expense  since insurance barely covers them anymore, I hadn't pursued it.  She asked for my size and reached into her bag and pulled one out.  She apparently knits them for www.knittedknockers.org.  She makes them and then gives them away.  Another service knitter.
Eventually I got around to trying this cute little "knitted knocker" and can I say my life was transformed?  Really that isn't an exaggeration.  You can't know how comfortable this little puppy is, just perched inside my bra, comfortable, absorbent, and weightless.  I immediately went to the website, and downloaded the directions.  (Note that she had already given me a copy, but I was standing in WEBS and thought I should pick up a couple of skeins of Pima Cotton and didn't have the directions with me).  I can get three boobs from one skein.  The skeins were on sale.
The point of the above rambling is I want to knit more of them for me.  In fun colors.  The website will send cancer patients these knitted and donated knockers for free apparently, but I can knit my own.  I just don't want to knit and give them away.  I know.  Selfish.  I wouldn't have ever known about them or tried them if a student hadn't been generous and given the one in her bag away.
To all of you who do service work, your efforts are appreciated.  A lot.  And there is a place for you in the great yarn store in the sky when all is said and done.  I'm hoping you'll let me visit once in awhile, and that my generous contributions during my classes will be enough to let me drop in for tea now and then.
I've already planned my next sweater project, and of course it is for me.