I know I'm overdue for a blog post, but life here, as you might imagine is a bit scattered and busy.
I flew to Kansas City what is it now two weekends ago?  I was giving a series of lectures to the Missouri/Kansas American Sewing Guild Chapter, staying in Kansas City MO, and teaching in Overland Park, Kansas.  Confusing?  Probably not much more than living in North Jersey and having all of our sports teams and even the Statue of Liberty claimed by New York.  A mere river separates us.
I loved this group.  And I loved working with people who sew.  Regularly.  So different from most of my other classes where fiber enthusiasts who make cool cloth, need help with their long dormant sewing skills.  It was most obvious when I came to the powerpoint slide, in the Hong Kong seam finish sequence, that explains where you have to "stitch in the ditch".  I said those four little words and turned to look at the audience expecting my usual array of blank stares and they all looked at me expectantly waiting for the next step.  I asked if everyone understood the term Stitch in the Ditch and they all looked at me like I had two heads as if to say, "Why wouldn't we?"  I'm sure you had to have been there and also in the classes where there are a handful that don't get this term and watch me try to explain this simple garment construction technique.  It is actually hilarious and I felt this time like I've found my tribe.
So thanks ladies, for a great weekend.  Oddly enough I fell in love with Overland Park, Kansas, and even with Kansas City and all it's areas, Friday night we ate at a fabulous German restaurant and participated in a First Friday Gallery walk.  I'm not exactly even sure which state I was in, but it was fun.  And I have no photos.  None.  I can't say why.  Probably because I gave mostly lectures.
Saturday night we stopped in a Barnes and Noble.  I haven't been in a Barnes and Noble in years. I'm sorry, I admit, I buy my books on the Kindle.  How did I miss the four aisles of adult coloring books?  Wow, when a new craze hits, it is intense! The American Capitalistic way!  I had picked up a book on Zentangles while I was at Sievers, and the fine pens, but I had no idea that the rest of the country was either busy coloring or busy designing coloring books.  Even though it was my favorite thing to do as a child, before I learned to sew, I can't imagine sitting for hours right now coloring in detailed pages.  I barely have time to write this blog.  I bought an additional Zentangle book from  the Barnes and  Noble bargain table.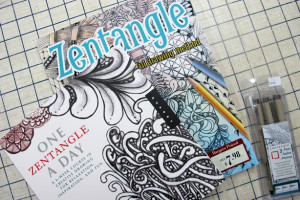 I flew home last Monday, was picked up at Newark Airport by a friend of ours, since my husband was already in Hackensack at the chemo infusion center.  I got home, grabbed leftovers to eat, and jumped in the car to head to Hackensack to take over for my daughter who was sitting with my husband for the hours of chemo.  We finished up the Chemotherapy and then drove over to the radiation center.  It was a long day, but gentle, and kind.
Tuesday morning, very grateful for the hurricane named Joaquin, who ceremoniously missed the east coast, I drove to Flemington to pick up the guild speaker Karen Donde, in a hand off from another guild. Karen is an old friend whom I adore and had agreed to host during her workshop with our guild, way before I learned of my husband's illness.  There were offers to put Karen in another location, but having people I love surround me, makes the days seem short and wonderfully distracting.  And distracting they were.  Tuesday afternoon, after getting Karen settled, I raced back to Hackensack for another radiation treatment for my husband, same on Wednesday, and then we headed down to the Jockey Hollow Guild meeting.  Life in the fast lane.  Except the fast lane on Rt 287 towards Morristown was pretty congested.  Typical for NJ at rush hour.
Thursday and Friday Brianna, (my daughter), Karen (the speaker) and I drove to the meeting location for a two day workshop on Bubble Cloth.  Karen had lots of samples, and we had two looms in the car, and we spent two days weaving samples in a round robin (moving around the room working on all the different looms, 11 total) that would eventually be vigorously washed creating bubbly fabric.  The yarns were selected because they shrank at different rates when exposed to hot water and agitation.  Cotton or tencel vs. Merino Wool.  I have to say that there were surfaces that I loved after all was said and done, but I really struggled when instructed to beat very loosely to achieve a square block, way too loose for my taste, since I'm the queen of a firm fabric when making garments.  If the beat was too dense, it was hard to get even merino to felt.
I took Karen to the airport early Saturday morning, and then spent the day with another very old weaver friend in from the west coast for her father's funeral.  Carol and I went to college together, and have remained close friends.  I was sad Carol lost her father, but the day was so warm and peaceful, and there was something quite profound and restful being close to someone I love and standing by a grave site in the warm sunshine, with the leaves turning,  listening to prayers and saying goodbye to someone who lived a full and adventurous life.
Sunday I spent the day threading a loom, for an all day demo I'm doing at the Newark Museum next Saturday.  I put nine yards on the loom, of cotton dishtowel cloth, in the same colors and threading I used for the Learn to Weave class I taught last month at Peters Valley.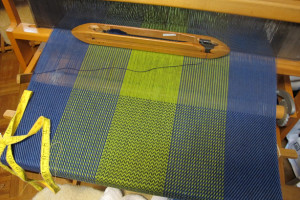 And now, the week begins again, my days are back and forth to Hackensack, sitting with my husband through his treatment.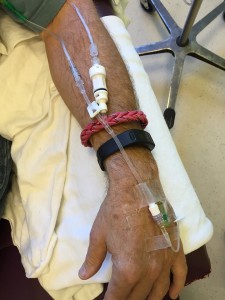 I'm finding a gentle peace in just sitting, with my knitting needles going, working through a cabled vest.  Mostly he sleeps, the benedryl pre-meds put him instantly to sleep, but I haven't spent this much time just being in the moment, and with my  husband in many many years.  Oddly enough there is a plus side to this.  The stress is gone, because, really, when you look cancer in the face, what is there to be stressed about?  Nothing is really all that important.  We sat yesterday on the rooftop parking garage, after radiation, just watching for planes landing at Newark or Teterboro airports.  Just being.  And that is a gift.
Friendship is the most important gift of all.  I have been blessed with friends who have stopped by, like Jerri last night, bearing anchovy and mushroom pizza. (Which I adore!) She came to weave off her sample from my daughter's loom, but it was good to have company in the studio.  And Diane, who came by this afternoon bearing wine, soup for the freezer, and a large bakery box of everything they had that was chocolate.  Diane made me laugh when she pulled out and put on her latest adventure in fiber art, a gorgeous collage of all things fibrous and some found objects, medals, and kitsch that you can actually wear.
If you are in the area next Saturday, please come to the Newark Museum for a rare series of events, surrounding a couple of wonderful exhibits, especially featuring Gabriel Dawe.  I saw an exhibit of his work when I was in Savannah a couple of years ago.  String art on steroids. A must see.  I'll be demonstrating weaving from noon to 4:30.  Here is the link for next Saturday's events. And here is a photo I took of me in the gallery at Savannah College of Art and Design at the Gabriel Dawe exhibit.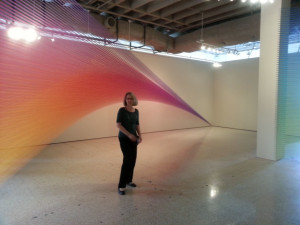 Stay tuned…