I'm back!
Only for a short time, but I wanted to get this post right out.  I spent last week teaching at Harrisville Designs, a quaint, historic location, pristine, full of ghosts to the active textile mill days in the 1800's, and though I've never worked harder in my life, this was one of my most successful classes ever.  They worked just as hard.  Sometimes until 10:30pm.  Some had already been working hard in the morning before I arrived half an hour before class was to start each day.  I had a large class, 11 students.  Four were returning, and seven first timers with me.  All were successful.
I measure success in many kinds of different ways.  Personally it isn't things like winning an award at a show, or having my name across a magazine masthead.  Success to me is when I solve a problem that seemed unsolvable, nail something that I've been sweating over for a long time.  Standing back and looking at something I've done and being personally pleased by what I see.  Simple things that make one curious and energized to tackle the next problem.
Success though, takes on a whole new meaning when I see someone look in the mirror and tell me they've never had a jacket fit them before, ever.  Success for me comes when I watch someone's eyes and they light up and show me that they've gotten it, and then can now fly.  Success is when I see 11 students leaving a class with jackets and coats that fit and celebrate the cloth they brought, mostly handwoven.  I think only two students brought commercial fabrics this time.  There was a lot of weaving going on this year.
We did a final shot of everyone's jackets and coats outside the Spinning and Weaving Center the morning of the final day.  There was still much handwork to be done, but I've never been prouder of a group of women, all of whom learned so much and really pushed their skills.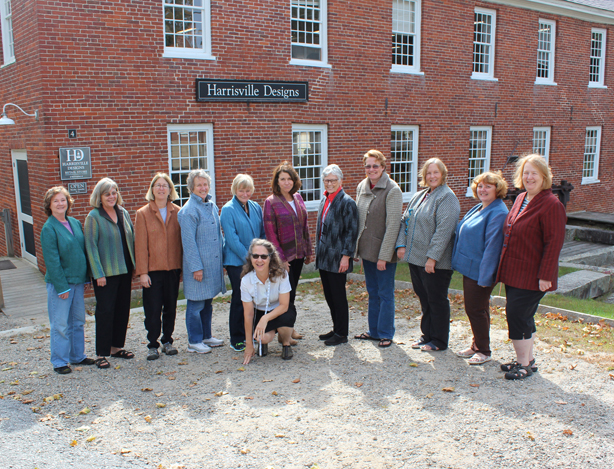 I even got a couple of shots of me doing my job!
There were my repeat students…
Amy, who wove this lovely cashmere fabric, and used a gorgeous silk for the lining.  Her son and daughter in law brought the silk back with them from India as a gift.  So the jacket has extra special meaning.  This is a Linda Kubic Elements pattern.
Carole, who wove this amazing wool, and made a coat with Vogue 1320.  I had used that pattern with a commercial plaid a couple of years ago.  We struggled with the fit of the sleeves going into the yoke because the fabric was so bulky.  The coat will be wonderful for cold New England winters.
Rita, who makes me smile at the way she designs and spends so much time working things out in front of the mirror.  Rita wove her fabric as well, and the jacket pattern is based on one she brought from Germany.
Jane, who also wove her fabric.  This is mostly Zephyr wool and silk, I can't remember if there is tencel in it, but the fabric was the softest thing you could imagine.  Beautifully fulled. The pattern was Vogue 9039, one that some of my Siever's students have used.  I wished I had taken a photo of the interior, every seam was perfectly trimmed using a combination of Hong Kong and Welt seam finishes.  The jacket is unlined.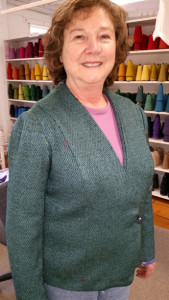 Barbara was a new student but had made a jacket similar to the one I use for beginners and with her extensive garment skills already, she brought her own pattern and some amazing handwoven fabric from her own Romney sheep.  She sent the fleece out for processing and spinning and wove a beautiful houndstooth with companion pieces.  There was a lot of pounding happening when Barbara would pick up the steam iron!  Simplicity 1320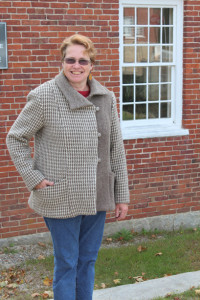 And all the rest made my jacket pattern, fondly called the Daryl Jacket!
There was Jean with another beautiful handwoven fabric, making her jacket suitable for the office…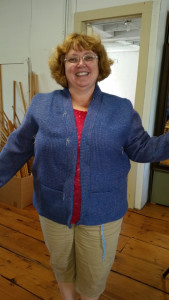 Sandy, handwoven fabric made into more of a sweater coat for layering…  We used elastic hair ties from the general store across the street for a clever closure.
Karen, who came in from Wisconsin with a rather loosely sett rayon handwoven fabric that required some extra care, but the end result was so worth it.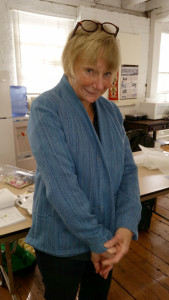 Cathy came in from Texas, with a handwoven fabric that made everyone gasp, partly from how spectacular it was and partly from the loose sett.  Cathy worked tirelessly to make the fabric work, and her extra effort paid off, the jacket is gorgeous and so very suitable to the warm climate in Texas.
Jan brought in a commercial upholstery fabric, and made a gorgeous jacket with a clever closure.
And dear dear Anne who was so enthusiastic, also with a commercial upholstery fabric, and I'm so disappointed I  somehow did not manage to get a photo of her jacket finished with the sleeves and bands.  She also did a lovely looped closure, interrupting the piping to create loops which I didn't photograph either. 🙁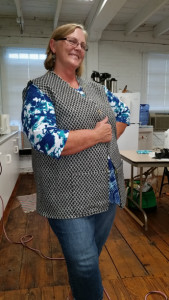 I had hoped to have students try on my new tunic/shirt pattern, so I could finalize the pattern.  Many were obliging and tried it on and I loved the proportions.  I will grade up one more size, but I'm completely happy with how it looked on everyone, needing only to add darts when appropriate.  Like the one Jean is modeling.  Just needs a little more fullness and darts.
I'm very very tired.  I gave this class everything I had.  The energy was high, and the creativity astounding.  And what usually happens when I return from an intense class like this (it is called a five day garment intensive), I have to go to a quiet place and hide a bit to refill the cup.  There is nothing left to give to anyone.
So I apologize to my poor husband, who is facing some pretty nasty stuff.  His PET scan which happened while I was up in NH showed a tumor and node issues in his thyroid in addition to the known stage 3 esophageal cancer.  Chemo and radiation start next Monday.  His spirits are strong, but I am struggling to do much more than attack paperwork, bills, printing handouts and making kits for the ASG classes this coming weekend in Kansas City.  I declined to accompany him to the Peters Valley Craft Fair today, which disappointed both of us, but I couldn't talk to another person or look at and absorb another thing.  I needed this day alone.  It is hard to explain unless you travel for a living and stand up in front of a group of people and give out everything you have in your soul.  I wouldn't change any of it, it was so worth the success I saw in the eyes and on the bodies of every one of my students.  We are trying to lock in next year's dates as I write.
I think I'll go open a beer… 🙂
Stay tuned…