Rested…
I can't remember when I last had a real honest to goodness vacation.  Not a trip with lots of sightseeing, not a break from work, a real vacation.  With no agenda, with no rules, with no stress.
I grew up vacationing at the Jersey Shore.  We would head down to Longport, NJ for four weeks, my dad commuting to Philadelphia to work, and staying with us during the weekends.  We sat on the beach, ate ice cream, played miniature golf, played with kids we met at the pool, learned to swim…  All those things that make summer the best part of growing up.  My parents maintained a house at the Jersey shore until a couple years ago, and though thankfully it was sold before it flooded in Hurricane Sandy, which was a good thing for my mom, I still miss it.
When I was in high school, we had a Swedish exchange student live with us.  We have maintained the friendship for more than 40 years, and have connected with each other often since then.  Annika's family owns a summer home (actually two) on the island of Ven or Hven which is in the Øresund Strait dividing Denmark and Sweden.  The only way to get there is by ferry, on the Sweden side.  There are only about 350 inhabitants, many of them farmers.  The main mode of transportation on the island is the bicycle. Annika and I both turned 60 within four days of each other, back in May, and for my birthday, all I really wanted was to spend it with Annika back on the island I visited last in 1977 when I graduated from college.
It was the perfect vacation.  I had no goals other than to rest, eat well, exercise well, and be with my real sister and my Swedish sister.  I met every goal.  Yes I brought along my Kindle, and read two books, and I did a lot of knitting.  But I did not go looking for nor expect to find any textiles, art, gardens, or anything that would tie into my already overflowing life.
We flew into Copenhagen, via Geneva, took a train to Vedbæk, where Annika picked us up in her little speed boat, suitcases and all, and we zipped across the Strait to the island.
We rented bikes and road all over the island. We found a woman selling her mother's handwoven rag rugs, laid out over the bushes.  My sister and Annika bought five rugs between them.
We hiked along the dirt paths, through fields of poppies, along the coastline…
We saw the most amazing architecture, many cottages from the 1800's.  Many had thatched roofs.
We saw the most amazing gardens…
We met Annika's friend Inger Palmstierna, an internationally known horticulturist who has written a number of books on gardening, some translated into English.  I immediately ordered her book on Greenhouse gardening on Amazon and it was waiting for me when I came home.  She lives on Ven and her gardens are gorgeous, of course.
She told us about a place on the island where there was a weaver.  Hven Vävstuga which means weaving cottage on Hven.  Karen-Agnete Alm runs a weaving school and teaches rag rug weaving.  She has a little shop where she sells the rugs and we got to peek in the barn where she has all the looms ready for her students.
Her lawn decoration was the best.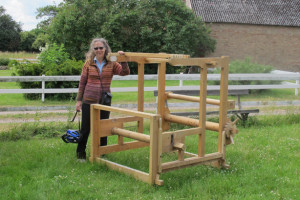 We got to eat en plein air, for almost every meal.  We all pitched in and cooked, stopping at the one market on the island to see what fresh vegetables they had.  I ate a lot of fish, and remembered how much I liked pickled herring.
We ate out twice in the ten days we were there.  There are only a few restaurants on the island, and they did not disappoint.
We took the boat over to the Denmark side and walked to the Louisiana Art Museum.  The Louisiana is a world class museum, with a number of current exhibitions, one featuring one of my favorite sculptors, Alberto Giacometti who is actually Swiss. (I always thought he was Italian)
And we saw an amazing retrospective of paintings and prints from an artist I had never heard of but will never forget.  Peter Doig.  He was born in Edinburg, but lives in Trinidad and spent time all over the world.  The paintings are huge, and gorgeous, and there were about 20 of them in the exhibition. The colors and textures and themes were breathtaking.
We actually attended church services twice while on the island.  The church, St. Ibb's, is about 1000 years old.  The services were of course in Swedish, so I understood nothing, but I got to feast on the interior of something way older than anything we have in this country.  The altar was colorful, and as I listened to the sermon in a language that was beautiful but meant nothing to me, I focused on what looked like from the pew where I sat, a lace trimmed altar cloth.  It looked hauntingly familiar.  I stared some more.  I nearly came out of my seat when I realized that the lace was not only bobbin lace, but the Danish Emperor's Crown pattern that I have on one of my own pillows.  I found a photo of me demoing on that very pillow last year at a local historical event.
I learned one very important lesson on this trip, that it is really really critical to actually take a vacation every so often, one where you unwind, turn off the connection to the real world, and just be. Many days we walked more than 12,000 steps, my phone kept track because it does that, and though I have a few friends who would say, "Only 12,000?", that's a huge amount for me, since I'm mostly sedentary in the studio.  I am rested, refreshed, well fed, tanned, and ready to tackle all the stuff in my inbox, waiting for my attention.  Another article to write for Threads Magazine, workshop preparations for Sievers, Peters Valley, Fiber College, and Harrisville that are all coming up in the next couple of months.  But for today, I unpacked, cleaned my house, caught up on laundry, picked all the overripe produce on the vines, grocery shopped, enjoyed catching up with my children and their busy lives, and prepared for a house guest, coming in tonight, my Battle of the Bands buddy John Mullarkey who is enroute between the NEWS and MAFA fiber conferences.  He will spend a couple of days here, I hope to get into NYC to the Met tomorrow, and then back to work and more regular posts  I hope.
Stay tuned…