First, my apologies to those of my loyal readers who do not sew.  This post today is all about sewing.  Sewing garments.  One garment in particular.  One of the most frustrating experiences I have ever had.  And I'm really really good at sewing garments.  I teach people how to sew garments.  I am in some circles considered an expert.
If you are one of my loyal readers who don't sew, you can skip this post, maybe scroll to the end to see what lesson I learned, but my point in writing this kind of detail is that someone out there who might be about to sew Vogue 1418, might Google errata and find this blog.
First off, let me say that I have enormous respect for Sandra Betzina who designs Today's Fit patterns for Vogue.  She has worked tirelessly in the home sewing industry through her books and DVD's to keep the art of garment construction alive.  I have a number of her books, as well as her Today's Fit patterns and I love the fit, they do not use the industry fit model, rather one that Sandra has developed (that actually works)and I always encourage my students to use them.
I picked this jacket, Vogue 1418, because it is current, and I needed a jacket pattern for an article I'm writing for Sew News magazine, on creating Triangular Bound Buttonholes, based on the class I taught last summer at the ASG conference in St. Louis.  I liked the detail in view A, and thought, with the buttonholes, it would make a great jacket.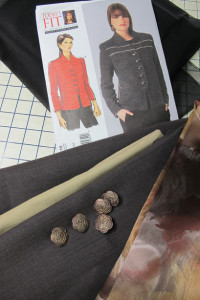 Because I am so experienced, of course I made a test garment.  I thought though, that I was being clever by using the view B pattern for the fit (the red jacket), it did not have complex yoke detailing, rather the front and the back pattern sections were complete pieces, so it seemed like less work to just make up view B and know if the garment fit was correct.  It was correct,  so I embarked on the long task of cutting out some 23 pattern pieces, out of multiple elements, this suit weight Italian wool jacket would be underlined in silk organza, interfaced with Handler's Veri-Shape, and lined with a gorgeous hand painted Silk Charmeuse from a trip to Thai Silks in the Bay area of northern California.  For the contrast, I selected a small remnant I purchased a few years ago from the now defunct Waechter's Silk Shop in Asheville, which was also a tropical weight wool.
This jacket was a bit challenging in the trim details, and I'm really glad I used wool, since the trim is not cut on the bias, but rather the rolled out edge of the facing, which works OK with wool, since you can steam wool into any shape you want,  but I can't for the life of me see how this could work with the recommended fabric of broadcloth.
None of this though is important.  I've made many challenging patterns before and really enjoy a good challenge.  The purpose of this post is to point out the critical mistakes in this pattern and hopefully help those who own the pattern avoid them before it is too late.
Sadly Vogue does not to my knowledge have an errata page on their website that calls attention to pattern errors.  Honestly in this day and age, we all make mistakes, magazine publications print errata, newspapers print errata, book publishers print errata, and with the easy accessibility of the web, there is no reason why Vogue can't just make errata available to its many loyal users.  I've been a Vogue pattern user for 50 years.  I love the designs and the engineering, and the directions.  I found a couple of years ago, a major mistake in one of the direction sheets, and I blogged about it here, and got a lovely note back from Vogue thanking me for pointing it out and assuring me that future printings of the pattern would fix the error.  But those with the first edition of the pattern won't know about the error because there is no way to find it.  Perhaps the pattern numbers could be listed as V1418.2?
There are pattern review sites like Pattern Review that allow readers to post their experiences, but when I checked this particular pattern number, there was only one post, and they had made view B, with none of the yoke detail, and like me, found it to be fine.
There were minor mistakes in this pattern, all of which I can deal with.  Mostly they were dots and match points in the wrong place.  The lower back panel for View A is actually cut as one full piece, not on the fold, yet when I folded it to maximize the layout, I noticed that the sleeve markings weren't symmetrical.  A silly mistake, that I easily corrected, but one I can live with.
The direction sheet tells you to attach the pocket to the side panel matching large dots.  A huge head scratch because the dots aren't even close to each other.  It is as if they used the dots from a different pattern altogether.  Again, I know how to put garments together, and though this was a nuisance mistake, nothing critical would happen to my garment.
And the pocket trim detail couldn't work the way it was designed.  I laid awake all night thinking of how to re-engineer the pocket trim and realized I could taper the trim to end at the large dot, so it would not interfere with side seam.  That solution worked well.
However…
This was an absolute disaster.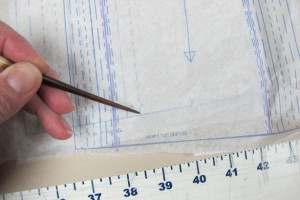 When I went to attach the side panel to the back, I realized that the two sections did not fit together.  So I went back to the pattern and to my complete shock and dismay, the lower back panel for the jacket was drafted too short.  It did not fit the side panel, and did not have enough length to even have much of the inch and a half hem the garment called for.  The first thought was I'd have to shorten the entire jacket the 7/8″ missing from the lower back.  But that wasn't really possible because of the location and size of the pockets and the front placket detail.
I could have spent a couple of hours carefully undoing all the work I went through to construct the back.  I'd have to reuse the yoke, since I had no more trim fabric.  I had more interfacing, and actually more of the wool outer fabric, but recutting the back would mean I'd no longer have enough of my expensive Italian Wool fabric for a skirt.  And I had no more silk organza and it would take a week or more to have it shipped from Dharma in California.  We won't talk about that additional expense.
I chose option three, which was to cut a strip on the crosswise grain, which I fortunately could do on the remaining wool fabric, and add it to the hem.  Not my favorite option, but the cheapest and quickest since this garment is for an article that has to be written before I call in for Jury Duty next week.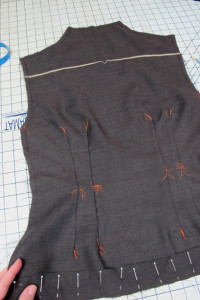 My sister wrote a snarky reply in an email I sent to her complaining about the fact that the pattern was just plain wrong.  She said, that I probably hadn't made a muslin first, and of course since I preach the making of a test garment to all who will listen, she just assumed that I took a short cut.  I did make a muslin, but View B was correct.  So note to self, always test the view you will be making, no matter how many pieces.  I would have found this error immediately.
That solution worked, and the seam in the hem is hardly noticeable especially with the lining covering it.  So all is well in the end.
Except…
The lining pattern was also wrong.
First off, in any tailored jacket I have ever made, or purchased, there is always a release pleat in the center back of the lining.  When you bring your arms forward, it is critical to avoid ripping the sleeves in the lining.  Lining fabrics don't really give, and because wools can and do, it makes sense, especially for a fitted or semi fitted jacket which this is.  I cut the lining pieces last and didn't think anything about it when I was cutting, that would be my inattentive error, until I got to the part in the directions that says, there is no back release pleat in the lining because you don't need it.  WTF?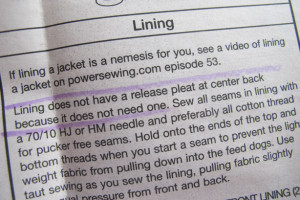 It was too late to add it, and I can't tell you my disappointment when the lining was installed, and jacket tried on, that in fact I do need it, and that my gorgeous hand painted silk lining will always be too tight across the back with no release.  I know better and yet didn't catch this until it was to late.  This isn't an error exactly, just the designer's choice, and I don't happen to agree with the designer.
The error actually occurred with the sleeve lining.  Apparently the fact that the sleeve hem facing rolls out into a trim detail, leaving it shorter than the pattern shows, and the sleeve lining was cut to the exact dimensions of the sleeve with full facing in place, means that the sleeve lining is too short.  All sleeve linings should have an extra amount of give, same as for the hem.  This is tailoring 101.  I was surprised there was no ease, and as I was attaching the lining to the sleeve facing, I had a feeling it wouldn't be correct.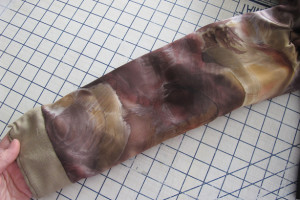 And it wasn't.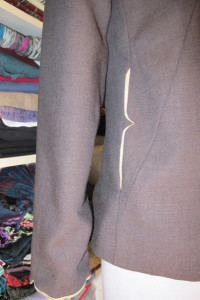 The sleeve buckles because there is no release in the sleeve lining, and so I had to go back and undo the lining, add an extra strip of charmeuse, which thankfully there was still a scrap left in the correct grain direction big enough to add.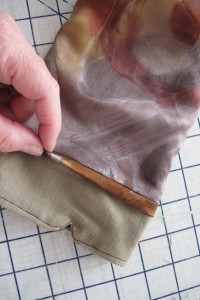 I can't go back and fix the missing back pleat.  So the jacket will always be tight across the back.  And in case there was the thought that maybe the jacket was actually too tight to begin with, the test garment, also of wool, had so much room across the back that my daughter commented that it looked baggy.  Knowing all the elements that would be added, underlining, interfacing, yokes, facings and lining, I thought it would be fine.  It would have been if there had been a release pleat in the lining.  I hate to scrap this gorgeous expensive hand painted lining, but down the road I might have to.  For now, the jacket is nearly finished and I'm working on my article.
I do love the jacket, aside from the intense frustration of some of the errors and poor engineering, I think it is beautiful and would have fit well if the lining had had the release pleat.  My other fixes worked, and I'm pretty happy with the result.
I hope that anyone who finds this post on the internet does embark on making this project, but heeds the warnings above and makes those fixes.
Lesson learned?  In the future, because I can't trust the infallible Vogue anymore to engineer its patterns correctly, I will do a test garment not only for fit, but to make sure that all pieces are accurate.  I will test lining dimensions, and look for a center back pleat, and really study each piece carefully to make sure it fits with its neighbor.  I will never assume again that patterns are drafted correctly.  I know this adds a frustrating element for anyone who wants to make garments, and I can see it adding hours of extra work in my garment construction intensives, especially when students come in with patterns that have 40-50 pieces (Ginnie I'm talking about you!)  But one incorrectly drafted pattern piece can be critical if there is no more fabric to recut.
And so dear readers, I will put up another post in a day or two about my adventures last weekend, and the 14 new weavers out there, but for now, it has been a frustrating nail biting week, with a lot of head scratching and head shaking.  I'm glad it is over and that I can write my article in peace.
Stay tuned…