I'm here is gorgeous Savannah, GA and really really enjoying myself.  After the appropriate delays flying out of Newark (weather caused closure of O'Hare and Dulles which somehow caused massive delays at Newark) I made it to Savannah just around lunch time and my lovely hostess Suzy Hokanson took me on a whirlwind fiber tour of Downtown Savannah, after a fantastic lunch at The Olde Pink House.  I know a number of you wrote me about fantastic places to experience southern cooking, but Suzy felt like the ambiance and history of The Olde Pink House was worth the trip.
Originally a 1700's residence, after many additions and iterations and some horrific decay and disrepair, the facility has survived and been completely restored and it was a delightful introduction to southern cooking.  We shared a flounder, with this amazing apricot glaze, pan seared and served with collards and grits.  It was the perfect light lunch.
Suzy kept referring to SCAD, which took me awhile to figure out, is really Savannah College of Art and Design, which plays an integral part in the fabric of old Savannah.  SCAD buildings are everywhere and so are the creative students who study there.  Suzy wanted me to see the exhibit at the Gutstein Gallery, part of the SCAD campus.  She had been involved in the installation of two works by Gabriel Dawe, site specific fiber installations involving over 80 miles of Gutermann Polyester Sewing thread.  You have no idea how incredible this is, these two works fill the space and create this mesmerizing shimmer of thread, which has a surreal optical movement that makes you feel almost unbalanced as you walk around.  My poor cellphone couldn't quite figure out how to focus.  There are Vimeo videos available that illustrate the entire installation of some of his other works, and if you want a treat, watch how he does this.
Like sand castles, these are temporary installations, and when the show is finished, the threads are taken down and placed in a plastic cube and then exhibited as Relics.  This is from his Plexus 3 installation. Hard to imagine what once filled a warehouse size space now fits in a small box.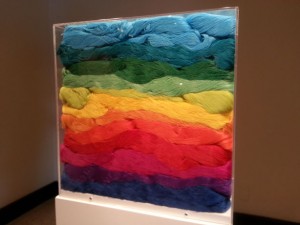 Dick Blick has a retail presence in Savannah, who knew, and they have a gallery up on the second floor overlooking the selling space.  The Fiber Guild of the Savannahs are holding their annual guild exhibit in the space, and Suzy took me up to see it.  There are some wonderful tapestries by Urban Jupena a textile artist from Michigan who now lives part of the year in Savannah.  There are quilts, and handspun yarn, and Suzy and her handwoven coat.
And there is a sample of a huge installation this guild is undertaking for the lobby of the Oatland Island Wildlife Center.  They are creating a "Mighty Oak" which is part of the Savannah landscape, all from wool fibers, handwoven tree bark, over a wire armature with quilted leaves, felted leaves, crocheted lichen, mistletoe and of course Spanish Moss, artfully recreated in glimmering grey yarns.  This costly undertaking is using the latest technology for fundraising, donations can be made to Kickstart.  They are looking to raise $3500 in a short period of time, and only 30 days remain.  It is a terrific use of the talents of  a mixed fiber guild, and I'd love to see more fiber groups undertake something of this magnitude.  You can watch a video on the project here.
We made a quick stop at the local yarn shop, The Frayed Knot.  What I loved about this shop was all the yarns were arranged by color.  I'm not sure how efficient that is, but it looked lovely.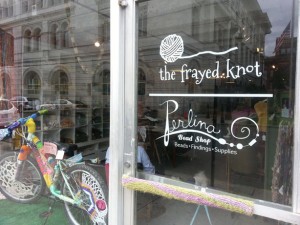 Suzy and I drove around Old Savannah, and finished the afternoon with another famous spot, Leopold's Ice Cream.  OMG.  Enough said…  And I only had a kiddie portion.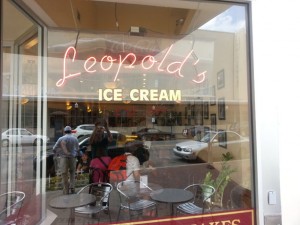 Today, I'm actually doing what I came down here to do, to teach a workshop in making a vest from leftover fabrics, there are some handweavers in the group, and some quilters, and of course the stash of fabric scraps are incredible.  This is a 2 1/2 day workshop, I start the day tomorrow with a lecture to the general guild, and I'll be sure to take photos of the progress.
Stay tuned…