I occasionally write about what inspires a project, or adventure.  It might be a trip, or it might be a photo.  It might be a technique or something I need for a teaching example.  It might be a magazine fashion, or just a plain old deadline.  And occasionally, it is just some really silly sequence of events.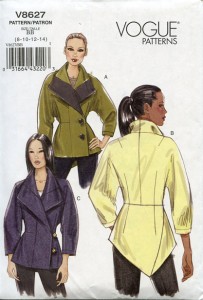 It started with the guild meeting on Wednesday.  Sherrie had been cleaning out some old patterns, Sherrie and I wear the same pattern size range.  She showed me the bag and asked if I wanted any of them.  For free.  Well that was a no brainer.  Patterns, for free?  Vogue?  What I can't wrap my head around is why people get rid of patterns.  And that would explain why I am sitting in a studio that is so full of stuff there is no way I could actually ever move out of here.
I took about 5-6 of the patterns she had in the bag.  There were some really interesting jacket shapes.  I brought them home and tossed them on my overcrowded cutting table.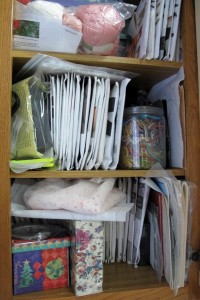 In an attempt to try to tidy up the overcrowded cutting table, I picked up the stack of patterns and scanned them into my computer, so I could organize them with keywords numerically in my Patterns file.  Then I had to find a place to store them.  This is proving to be a bit tricky since all my pattern boxes are overflowing, and I'm resorting to stuffing patterns into a shelf in one of the cabinets in my studio.  Which is also getting pretty tight.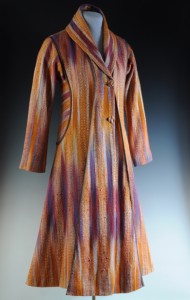 I shifted some of the detritus around, and found stuffed in the back of one of the shelves, the leftover warp from this dress…
I pulled it out to make room for the patterns, and thought I might set up one of my inkle looms with it.  The warp is probably about 10 yards long.  When I started to count the three different warp bundles, I realized there was a substantial amount of warp left, I could add to the pile with stuff from the stash, and do a quick scarf run, because the pile of leftover warp couldn't go back on the shelf.  No room.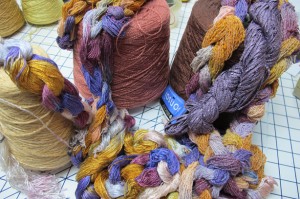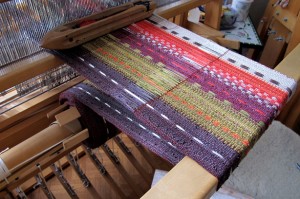 So I looked at the loom I would be using, and realized I still had at least another couple of scarves to weave off the warp that was on it, and it was coming up on the top of the to do list anyway since I have a flurry of fundraisers for organizations near and dear to my heart that have sent me letters asking for a donation…
I spent last night clearing that loom, so I can throw the rest of the leftover warp on it, I'm almost to the point of having completely naked looms.  Only one has a warp, one of my table looms, and I have to get moving on another large Weave a Memory piece for a fundraiser auction that is due in a couple of weeks.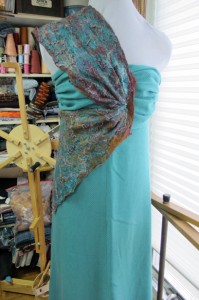 No progress on the dress/felt scarf from two posts ago.  Because I'm rethinking the whole idea, I love the tencel and the felt together, but remaking the gown, when I rarely ever have an opportunity to wear gowns except in fashion shows, doesn't seem like the best use of the components.  I'm exploring my options.
And in other news, I received my annual rejection non acceptance letter from Small Expressions.  Sigh…  Even though I expect to get rejected to not get accepted, one can always hope…  So it was particularly poignant while randomly scrolling through Facebook, to come across this quote…
"Don't think about making art, just get it done.  Let everyone else decide if it's good or bad, whether they love it or hate it.  While they are deciding, make even more art." – Andy Warhol
Stay tuned…