I'm sitting here in a Greyhound bus depot, in Milwaukee, WI, killing three hours until I can pick up the bus and ride all night to Houghton, MI and hope I make it to the conference early tomorrow morning.  I've been up since 5am.  I'm sick.  My day did not go as I planned.  I'm not dealing with it very well…
It all started fine, I got to the airport, caught the 8am to Chicago on United, had a roomy seat thanks to my Elite Status, and grabbed a Quiznos breakfast sandwich while I made my way to terminal F.  About 10 minutes before we were scheduled to board for the flight to Hancock, MI, the gate agent looks out the window and says, "not good…" referring to the roiling clouds forming a typical midwestern storm.  About two minutes later my cell phone rings and says, my flight to Hancock has been cancelled.  The gate agent told me to hike over to the United Service counter, and wait in line with 300+ people and basically good luck with that…
There are only two flights a day to Hancock, turns out they are all sold out for the next few days.  United is the only airline who serves Hancock.  I'm basically out of luck.  I ran into Susan Bateman who owns Yarn Barn of Kansas.  I've worked with Susan for many years on the forecast column I wrote for Handwoven Magazine.  Always ready to jump on whatever I needed from her, I was thrilled to have someone to share my misery with.  She and her assistant were also stranded, she went off to find a rental car, while I tried to retrieve my bags from Chicago O'Hare airport.  What was I thinking…
There are no available rental cars, and of course I can't get my bags back, I was assured the bags would eventually make their way to Hancock, with or without me, so Susan, bless her, looked into trains and buses.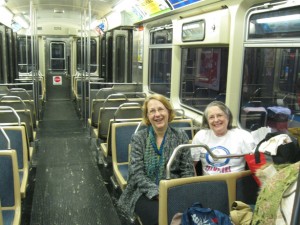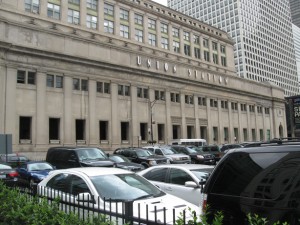 The three of us ended up hiking it to the train from the airport, which is basically a glorified subway, for the hour trip to downtown Union Station in Chicago.  From there we waited a couple of hours and boarded an Amtrak train to Milwaukee, WI, where I'm now sitting with what bags we had from our carry-on luggage.  I have a three hour wait until we board the Greyhound bus for the all night drive to Hancock, MI, where we will arrive around 8:30 in the morning, Susan and her assistant Mary Margaret will have to immediately begin setting up their vendor booths, all four of them, with the 2000 pounds of merchandise they had freighted to the conference.
Once I arrive at the conference, I'll have to cross my fingers and hope my bags arrive at Hancock airport in time to teach my class on Friday.  My brand new piece is in there, I keep thinking how smart I was to have done some sort of photograph of it before I left.  There is always the chance I will never see it again.
Since my computer equipment is with me, and the handouts were shipped ahead, I can technically teach without what's in my bags, but I have to just hope it will all work out in the end.
These are the kinds of days that are really rare, but make me think that I'm getting too old for this kind of lifestyle.  I am exhausted, sick, and miserable, and I just want to crawl in my own bed.  This is what being an adult is, to carry on in spite of everything, to put on a good face and give your students what they paid for.  I have to judge the fashion show tomorrow, and hope I'm forgiven if I am not at my complete best.  One foot in front of the other, I can do this… And Bless You Susan, for being an angel in an otherwise perfectly ghastly day.
Stay tuned…