Oh how I wish…
See, the problem with working for yourself is you can't call yourself and tell yourself you can't come into work today because you are sick.  I mean actually sick.  Mostly I love working for myself.  I'm motivated, set impossible schedules for myself, kill myself trying to meet them, and because I work for myself, I get to bask in the glory when I pull them off.  It is only when I'm really really down, that I really really want to have someone else carry the load for awhile, not a long while, just enjoy so I can enjoy being completely out of commission while I feel miserable.
I made it through graduation, all was well except I knew something was virulently running through my house, first my daughter, needed major league antibiotics, then the bottom feeders (for those not in the know, they are the 20 somethings that inhabit my basement).  Except they don't have insurance and can't run off to the doctors to get drugs.  So I treat them with my bag of folk remedies, mostly which work, except I got too involved and as a consequence, caught whatever was going around my house.
Anyway, I'm getting ahead of myself…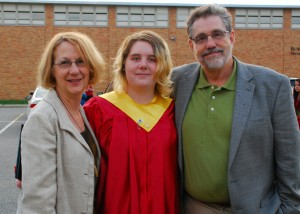 My daughter had a wonderful time at graduation, she is so done with High School, all she had to do was march across the field in something that resembled decorum, but eventually broke down into a conga line while the pitiful band, minus the seniors struggled with Pomp and Circumstance.  It was graduation Jersey Shore style…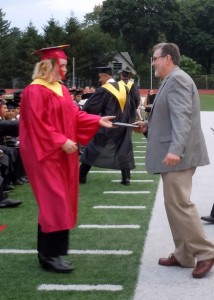 My husband, one of the few perks if you can call them that, of being a school board member for 13 years, got to hand my daughter her diploma.  It was sweet…
I entertained my mom, step-dad (we call him my Bonus Dad) and my sister, it was incredibly good they were able to come up from Maryland, in spite of the horrific weather, indeed they had to sit in my driveway after driving for four hours, in a wicked hail storm.  Amazingly the skies cleared, just before graduation, and the administration decided to hold the ceremony outdoors, which was largely successful, until the very end when rain drops sprinkled from the sky, like wet confetti.
My daughter had friends over for a pool party and bonfire on Saturday and I puttered in the studio as best I could in between the festivities.
Then Sunday morning, I woke up sick.  I'm talking fever, congestion, a miserable summer cold, and I felt like I was run over by a truck.  And of course, all I could think is, crap, I'm getting on a plane Wednesday morning.  I know how long it takes for me to get over stuff like this.  Fortunately I'm rarely sick.  But once struck, I don't recover quickly.  And I admit, I'm a miserable patient.  Largely because I'm the doctor, nurse, pharmacy, cook, and employer all at the same time.  Sucks…
So I went to bed.  I hoped that by staying in bed for three days I might be able to feel well enough to travel, I'm traveling anyway, but I'd rather not do it with a raging sinus infection/fever, etc.  Not fair to the person sitting next to me on the plane…
Of course not being one who sleeps well, I just laid there, for at least two days, getting up to eat and check e-mail occasionally, and of course that lasted for about an hour and a half, and I resorted to dragging stuff from my studio to my bedroom, since a lot of what was on my to do list required handwork only.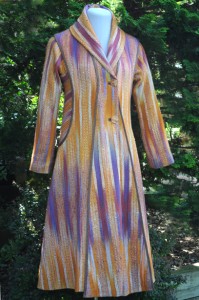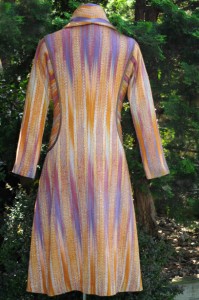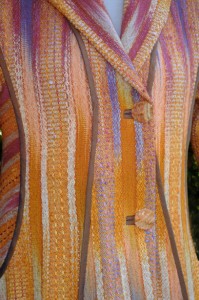 I finished Albuquerque Sunset.  Other than the buttonholes, I mostly had about 8 yards of hand stitching to do.  I didn't want to put it in the suitcase and fly with it to Michigan without some sort of proper photograph, it would be my luck the suitcase would go missing…  And I didn't have the energy to take apart my studio and do a formal photo shoot.  So we stuck the dressform in the bushes, not my favorite way to photograph, and captured a couple of shots that will suffice until I can do a real photo session.  I'm really happy with how it turned out, so interesting, so much to look at, such unusual lines, and that makes sense since it is an Issey Miyake Vogue pattern.  If you haven't been following the construction of this piece, I dyed the yarns, wove the fabric in an eight shaft combination structure, and then made it up in a coat/dress from a Vogue pattern.  I changed/modified a lot of the construction process, basically rewrote the construction sequence.  The buttonholes were hidden in the original pattern, but I thought the front too plain and elongated, and I liked the interruption of the two large buttons, and heck, I had to use a couple of my really expensive buttons I procured from Tender Button in NYC when I was there the end of January.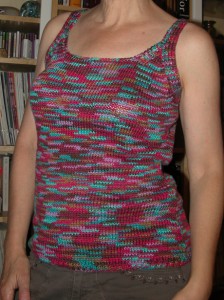 I also finished my knit tank top.  All the handwork was left, and at Thursday night's knitting group meeting, one of the members showed me how to actually do a mattress stitch join for the side seams that is nearly invisible.  Who knew?   Of course I had already sewn the side seams together as if I was piecing handwoven selvedges, so I had to rip them out first…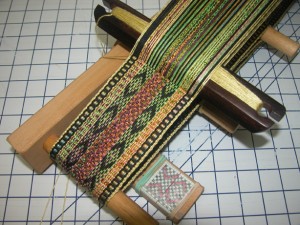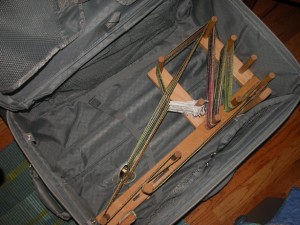 I brought my Schacht inkle loom into bed with me, there is something oddly satisfying about weaving in bed, since for the most part, weaving is NOT portable.  I'm starting to get the appeal of a rigid heddle loom…  I had picked up from a downsizing guild member, an inkle loom from Beka, more out of curiosity, I have more than 20 of my own, and I discovered to my complete delight, that it fits in my suitcase.  The Schacht was about an inch too long, and I'd have to ship it ahead and then back home, at considerable expense, when I flew to teaching venues.  Since I'm teaching an inkle class at Midwest conference this weekend, I wanted the loom to go with me, but wasn't in the mood to pre-ship it.  Plus I set it up a couple years ago, can't remember if I was even blogging when I first set it up, and then sat on the warp, one of those too complicated dogs that just didn't cause me to drop everything and attend to it.
Anyway, when you are sick in bed, you have lots of time to think about stuff like this.  Don't ask…
I studied the pick up design, two adjacent seven thread pick up areas, offset from each other by half.  I couldn't pick up any speed and it was really hard to keep track of where I was.  Like I said, I haven't woven on it for a couple of years.  Mostly I bring the loom for show.  I like the piece, made from the thrums of the Frosted Florals dress, but I haven't had the brain focus to work it all out.  Until I got stuck in bed with a summer flu.  I got the idea that instead of just putting the graph of the design on the side of the loom, that I could put a graph of the alternating rows of pattern threads, what is up or down in any given shed, and just color in the additional threads I needed to pick up for the design, and X out the ones I didn't want to show.  I had to get up from bed and scrounge for graph paper and colored pencils, but I managed to make a small two color graph and what a difference it made.  For those who aren't weavers, I'm sure this whole paragraph when right over your head, but the point is, I could just glance at the chart, and see what had to be changed in any given row, not start from scratch each time. I flew through the warp.  I'm over half finished.  Who knew…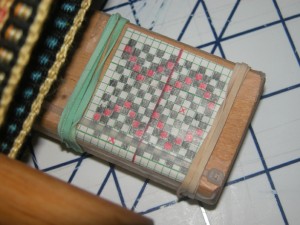 The other thing I was able to work out was how to keep track of what row I was on, without using one of those large metal knit trackers with the magnetic strip.  It was cumbersome and annoying.  So I laid in bed some more and came up with the idea of taping the graph to the base support, of the Beka loom ( I forgot to mention I actually transferred the entire piece from the Schacht to the Beka loom and it fit perfectly).  I put a couple of rubber bands on either side of the graph, and used a small zip tie to slide up the graph marking my place.  I'm pretty damn proud of myself for figuring this out.  I should be sick more often…
So I'm dragging my butt around the studio, starting to pack, resigned that I'll be on  my way to the Upper Peninsula this time tomorrow, I have to be at the airport at 6 am and fly through Chicago.  I really wish I felt better, but this too shall pass.
I'm hoping tonight to write up a formal proposal before I leave, to teach an online class in beginning inkle weaving for Weavolution, I've spent countless hours on the phone with Claudia Segal, one of the principals in Weavolution, and I love the idea of online teaching, not having to get on a plane, not having to wedge hundreds of pounds of materials in two 50 pound suitcases, not having to actually leave my studio, and being able to reach any student anywhere in the world who has a computer and internet access.  I could even teach while I'm sick.  I'd just turn off the video…  They'll never know…