I would wager a guess that this has been the most relaxed and rested conference I've ever attended.  And oddly enough, second only to Convergence last summer in Albuquerque, I've taught more here than I've ever taught in one week straight, social events in the evening, three meals a day talking with everyone I've ever met from the Pacific Northwest and I feel like a new person.  Go figure.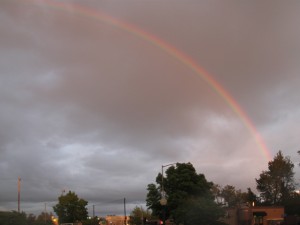 I can't explain, maybe it is Oregon.  Maybe it is the cool rainy weather, great for sleeping at night, maybe it is the food, plenty of water, walking all around campus. Maybe it is the online yoga classes I do every morning in my dorm room.  Maybe it is the friendship, though I typically have wonderful experiences with students, other instructors, and old friends when I travel.  Maybe it is the campus here at Willamette.  The lush gardens, with the mill stream cutting right through the campus just pull at me everywhere I go.  I stop and smell the roses.  I stop and bask in the sun when it comes out for a brief moment. I stop and watch the ducks.  I stop and watch a rainbow that stretches across the sky in a complete 180 degree arc. I just stop.  Maybe I need to reexamine my life back in NJ.
I've had some great experiences at conferences, which is sort of awkward, no one should have this much fun when they are working, but I do.  This one goes up to the top of all time greats.  The students have been so supportive and fantastic, and the conference staff so accomodating, and willing to do whatever it takes, I've loved working with them.  The fashion show was tonight, and it was beautiful, a decorated stage, professional narrator, and some really spectacular garments.  The professional models were clearly having a blast.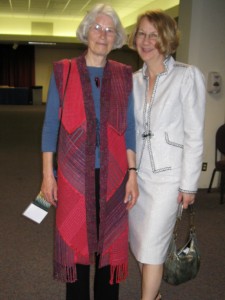 At the fashion show dessert reception afterwards, I ran into one of my students from a workshop a couple of years ago at an ANWG conference, I believe Tacoma.  The students were making a pieced vest, and I usually don't get to see the vests completely finished, but to my absolute delight, Eva pulled me aside to show me her gorgeous vest, now finished, and glowed with pride when she showed me some of the sewing details she placed inside.  It is a lovely vest, suits her well, and I challenged her to do another project by the next conference.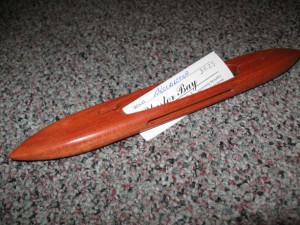 I hit the conference vendors briefly last night, and buckled at the knees when I walked by the Bluster Bay booth.  There was the most glorious low profile shuttle, from Bloodwood, calling at me, whatever could I do but plunk down the $40. for the shuttle and some quills?  Imagine my surprise when I discovered no sales tax in Oregon. Some of the locals explained that though Oregon doesn't have a sales tax they do have an income tax.  Well damn, NJ has an income tax, sales tax, the worst property tax in the country, a lottery, Atlantic City, and they are still bankrupt.
One of the other instructors and I went exploring around the campus and came upon this hidden garden full of the most amazing contrasts in color/texture/shape and plants I've never seen before.  I took lots of ph0tos.  Be inspired.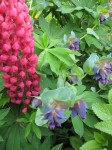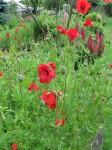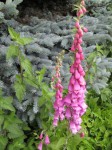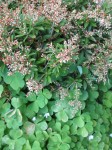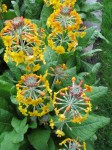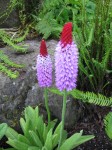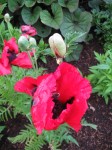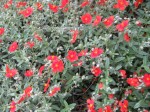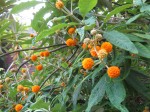 And this afternoon I got a rare treat, I actually took a seminar, with Pat Sparks, a wonderful felter and all around excellent person.  I've known Pat for a long time, and she was giving a hands on 2 1/2 hour seminar in making lace felt greeting cards with Wensleydale locks (this being a breed of sheep in case you were wondering).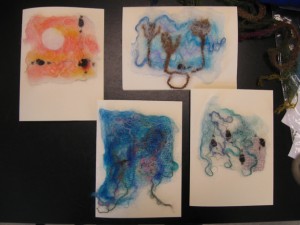 I had a blast just sitting in a pile of cool bits of stuff, rubbing wool with olive oil soap, and making little "paintings" with  interesting yarn and shiny things, all held together with these airy paper thin layers of wiggly wool.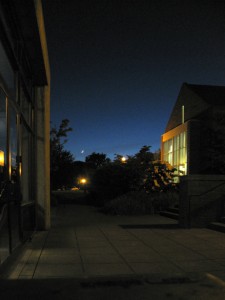 Walking home tonight from the fashion show, the cloudless sky shone luminous with a color blue I've rarely seen on the east coast.  The sliver of a moon was just rising over the trees.  Or the cafeteria actually.  For tonight, all is well…  (And I hear they have hot water again in the dorm showers… )
Stay tuned…