See I have this list of stuff to do, posted on a virtual to do list on my new computer screen, surrounded by pretty purple virtual post it notes of things I have to remember, notes to myself so to speak, and every time I look at them, or the list I glance over to my sewing machine, which is in my peripheral vision as I type, calling loudly to me like my dog does when he wants me to pay attention to him.
I have a couple of articles to write, and they are emergency, "can you have this in the next couple of weeks" kind of articles, and about a half dozen new workshops I have to formally put up on my website.  And I have to finish the dishtowels, I've woven five, the last with an alternate treadling which I love.  And I have to pick up my organic produce basket and go grocery shopping.  I gave up on cleaning my house and hired someone, at least for this week.
And still my sewing machine calls me.
So, what could I do, but listen…  I succumbed…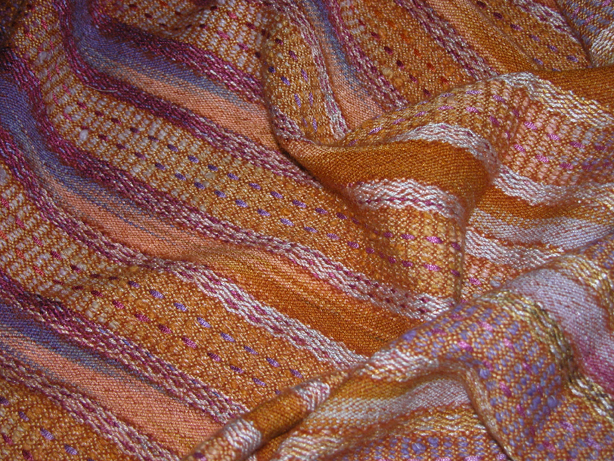 I dug out the last fabric I wove, the orange and purple fabric that I barely pulled off the loom last December and immediately shipped it out to Handwoven to be photographed for the magazine for my last article in the current issue, and it only came back to me about a month or so ago.  It is screaming at me to make something out of it.  I long to dig my teeth into another challenging sewing project, course I'm heading out on the road in about a week and a half, but when did that ever stop me…
I have this Issey Miyake pattern from Vogue, 1069, still in print oddly enough, that I've been mulling over for awhile.  I love his patterns.  They are challenging to engineer for handwoven, and just in how they go together, as the pattern pieces, there are only four, are sort of unrecognizable as traditional pattern pieces go.  This dress/coat, I'm not sure exactly what it is, is lined, but the outer seam construction is all overlapped, zigzagged, raw edges showing, for the seam finish, and I'm certainly not going to do that with handwoven, but there are all kinds of alternatives and my mind is a whirl.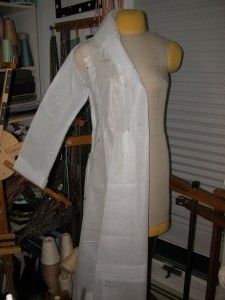 So I stayed up late last night, and jumped into the studio this morning, to get the preliminary fitting done, I like the way it fits, and I can't wait to see how this really odd all in one collar works out in real fabric.  I can't do a lot of the easing and stretching in pattern paper, but handwoven will make it a breeze.  I also did a preliminary layout since I need so much fabric and I want specific color washes in certain places.  I think I can do it with some creative selvedge abutment.  These are huge sweeping pattern pieces for a very long coat/dress.  If I can pull this off it will be smashing.  I need a new runway piece or two, so the timing is good.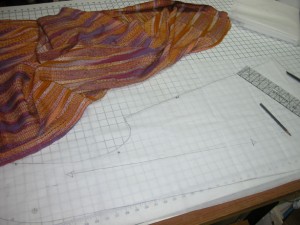 The layout will be particularly tricky, so I decided to trace a second set of patterns for the left side so I can lay everything out at once and not worry about flipping.
OK, I do need to go get my produce basket and pick up groceries, but I'm pushing the looms aside and going to start figuring all this out just as soon as I get back.
Stay tuned…