…our regularly scheduled to-do list for an exhibit deadline that just snuck in there without me noticing…
See, it's like this…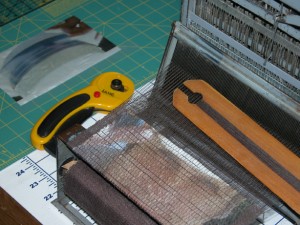 Every spring, I pay  a $25. entrance fee to have up to three pieces juried for the annual HGA Small Expressions exhibit.  I've only once gotten work accepted to it, that was a couple of years ago, but I dutifully write the check and send (donate) the money to the HGA, and fill out the application, burn the CD, and file the application under "pending".  I forgot about Small Expressions this year, I didn't have any new work to submit anyway, (just what have I been doing the last six months?), but I had another unrelated exhibition deadline pop up in my Google Calendar last week, for an exhibit where I've frequently been accepted, and have actually won awards.  When fishing through the files for the paperwork for that exhibit, I came across the Small Expressions application and crap, the deadline was March 7th, which is today.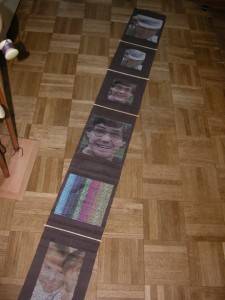 I spent the last couple of days, furiously weaving small postcard size images of whatever I came across that meant something to me, especially one of my dad that I uncovered, sort of to celebrate the 10 year anniversary of his death.  It was healing for me to weave it, never mind if it were to actually be accepted to an exhibit, art isn't about that.
I got the application in with an hour to spare, and I like the images I sent.  I assume this will be another donation, but I have to try.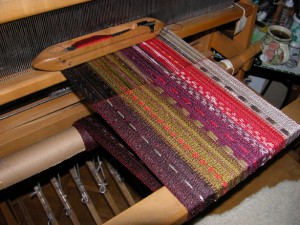 Meanwhile, there has been much speculation on who actually finished the warp from my last post.  When last we left off, I was quite enjoying the company of a good bottle of wine from an upstate NY winery, while re-beaming a 15 yard mess of a warp at 3 in the morning.  No, it wasn't Brianna, no 18 year old would get out of bed at 3am for any reason other than a burning house, and it wasn't the piskies, brownies, mice, tomtar, nissen, or house elves, though they all reside in the studio, and were probably enjoying the show.  I finished it myself, though I honestly don't remember much of the last yard or two.  But the warp went on, and I was able to weave off a scarf the next day, quite uneventfully.
I'm rethinking the whole idea of sectionally warping these scarves, mostly because the loom I'm using is really too small for a 15 yard warp.  My 45″ loom with a sectional beam is too much loom, and my 36″, which would do a great job, doesn't have a sectional beam.  So I'm mulling over the possibilities…  Stay tuned on that issue…
Slowly and methodically I'm making progress on the jacket with the handwoven trim.  It is turning out really well, I love the jacket, and it is a challenge to sew, I've had to on more than one occasion, sit down and have to really figure something out that I haven't encountered before in my 45 years of sewing.  I've learned a couple of things as well. At this point, I just have to put on the collar, finish weaving the trim, and sew the trim around the collar, sleeve hems, and center front.  Then the skirt.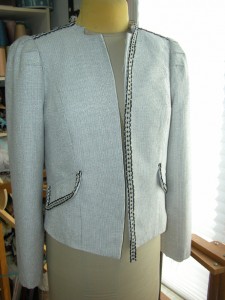 The weather here has been either warm and pouring rain, or cold and windy, it is March, but I'm sort of putting in my request for warm and sunny?  Would that be too much to ask?  Part of my town flooded today, not where I am, but it is always sad when your neighbors across the way can't get in and out of their homes, buses can't make their routes to get kids to schools, and life gets interrupted for many.  My yard is a soggy mess, but there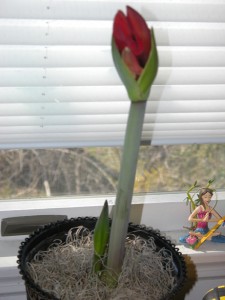 are only trace piles of snow left, and now just a lot of post winter debris that needs to be cleaned up in preparation for spring.
This photo is for my husband, who is in Saudi Arabia, who before he left, presented me with the gift of an amaryllis.  I keep it in south light, and water it sparingly, just like the directions said, and it is almost ready to bloom.  A sure sign that spring will surely come…
Meanwhile, is it wrong to encourage your eighteen year old daughter who just got accepted to University of Massachusetts Amherst along with a nice scholarship, to attend UMass Amherst because it is probably 20 minutes from WEBS yarn store?  🙂