On Sunday we made the laborious 3+ hour trek to Maryland, just off the Baltimore Beltway, to my mom's house, where she is now living with her husband of a couple of years, a man she dated in High School.  A number of years after my dad died, my mom attended her high school reunion, and reconnected with someone she had dated, and six months later they were married.  They adore each other, and it is really sweet to see a romance bloom with two people who will turn 80 next year.
There was a family picnic, for the holiday weekend, and I was glad to have made the trek, I was able to reconnect with some family members I don't get to see too often, because of the distance.
In July, my mom sold the house she owned at the Jersey shore, it was getting to be too much for her to keep up both houses, especially knowing what kind of superb housekeeper she is.  They don't make 'em like that anymore!  Back in April, I met my sisters at the shore house, for one last fling knowing mom had just listed the house, and in spite of the current financial markets, knowing it would more than likely sell quickly, it was in move in condition.  And of course the house did.  Anyway, my mom had begun back in April, divesting the house of all its debris, in my mom's case it was well dusted and carefully preserved debris, but never-the-less, it was debris from the past, and I was dreading having to bring some of it back to my already overstuffed dwelling.  I blogged about what I did bring home that April weekend.
On Sunday, my mom had her usual shopping bag of stuff, waiting for each of her three girls, these bags could have anything from books she is passing along, to cast off yarn or fabric, coupons, packaged food, or articles I should see or read about.  Always something of interest, I look forward to seeing what my mom has collected for me.  I was blown away by the bag she had for me this weekend.
My mom was always into needlework, as any 1950's well trained housewife would be.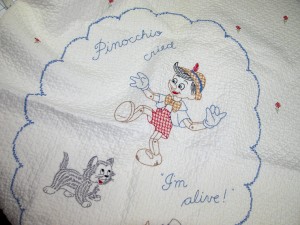 And of course she was a fabulous dressmaker/tailor.  I've blogged about our matching dresses, and my tailoring lessons.  (At least I think I have…)  Mom pulled out of the bag my first comforter, which I clearly remember, but not as something that was made for me, but for something that covered my little sister, who was five years younger.  I always loved it, one of those comfort images from childhood, and I was thrilled to see it had been preserved, and cleaned, and the needlework had held up through three children, and it was going home with me.  The quilted cotton was smooth, well worn, and the colors just as bright as the day she embroidered it.  Gotta love that DMC cotton!
I nearly fainted when she then pulled from the bag, my first book.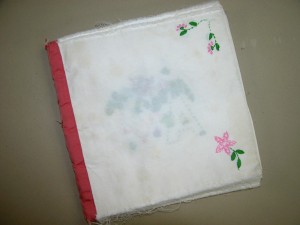 I remember reading it to my little sister, but hadn't remembered it as being mine, until I looked through it and a flood of recognition of  images and colors, and  memories came flying back into my head.
Again, mom had carefully soaked the yellowing stains away, and the book was beautiful.  The edges were frayed, and well used, like any good book, but the images inside were bright, vibrant, and funny.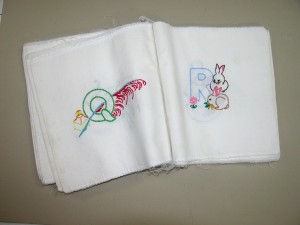 This was a book about the alphabet.  I learned my alphabet by reading and associating images from this book.  I learned that things had names and that the names started with letters from the alphabet.  And I definitely had some favorites.
I think my most favorite was 'D' for Doll.  But I never looked at it that way.  I remember pretty quickly figuring out that 'D' was also for Daryl.  So I always thought this was an image of me!  I was so cute…  I might have even had a dress like that…  And of course I was blonde.
My poor middle sister on the other hand, had dark hair, and her name was Marta.  I clearly remember not liking this image, and being really glad my name didn't start with 'M'.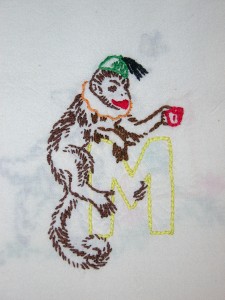 There was something really creepy about this organ grinder monkey begging for money.  I always thought the orange ruffle was odd.  This was probably the beginning of my fashion sense!
Not to be outdone, there was another fashion forward creature, 'O' for Ostrich.  This colorful thing even had mismatched shoes. (Which I never really noticed until now, probably something to do with shadowing, but they really don't match!)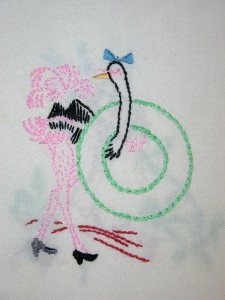 And of course, there were the images which I'm sure started my love for fiber.  There was 'L' for lamb, and my other favorite, 'Y' for yarn!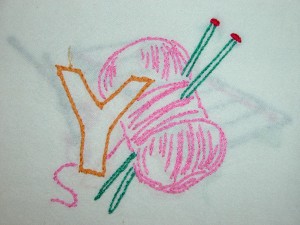 And I clearly remember loving the colors on the 'K' for kite!
I spent hours learning my colors, and then teaching them to my sisters, from all the colorful bows on the kite tail.
This was such a beautiful treat, to have this book.  My mom said it was for my first grandchild.  No offense, but my first grandchild isn't touching this book.  I love this book, and I'm glad to have it back.  I'm being selfish and keeping it for myself.
Today is Tuesday, school started today.  My daughter dyed her hair purple for the occasion.  She matches her tie-dyed t-shirt.  She ran off for the bus with the same enthusiasm I remembered as a kid when the first day of school would roll around.  I really loved school, and there is a part of me that wishes I were back in the classroom.  But for today, I have my first book, that taught me the alphabet, and showed me yarn, and gave me a sense of what not to do in fashion.