Felter's Fling
OK, I know I've been a bit lax in my postings.  Overload wouldn't even begin to cover it.  But I'm having a great time up here in MA, at a craft center called Snow Farm where Sharon Costello, felter extraordinaire, has organized the fourth Felter's Fling, which is a gathering of international felter's, who spend a week doing, well, felting.  The instructors come from all over the world, and so do the felters.  I feel positively local coming from NJ.  Though I've only dabbled in felt, I am here as an instructor teaching the felters how to make jackets from their felt.
The first night I arrived at the "Fling", I judged the Felted Hat contest, where all the conference attendees wore their newest headpieces and millinery creations, and the instructors all got together as judges.  What an amazing parade of creativity.  We all came up with our favorites, and awarded prizes to the most "amphibious", the most "green" (made from scraps), the most "likely to crawl away", the awards were as fun as the hats!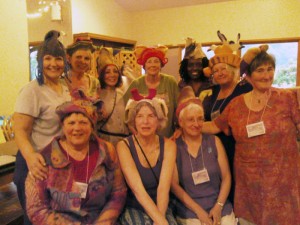 I have to say, I adore working with felters.  Not that I want to become a full time felter, I am a weaver at heart, but there is such a different approach to creativity in the felting community than in the weaving community, it is fun to be here, immersed in wool, for a change of scenery after four weaving conferences in a row.
The biggest difference is the spontaneity of process, with some soap and hot water, and some wool, the most amazing things can be formed, shaped, and invented.  Yes, it takes some skill to be really good at this, but the process couldn't be simpler.  And there is no huge investment in equipment, and no HUGE learning curve, no threading the loom, no mathematical calculations, (except in how much wool you need), just seeing where the wool takes you.  The felt itself, when cut, doesn't ravel, doesn't have a grainline, and has this gorgeous organic edge that can be used in all sorts of decorative ways in a garment, instead of seam finishes, hems, and edges.  So the standard jacket pattern I use for teaching handweavers to sew, becomes something entirely different when used by felters.
I shot a few photos of some of the jackets in progress, it is fun to watch the students change course mid stream, run out and felt another piece if they need it, cut up and piece and overlap and embellish as the spirit moved them, and see these wonderful jackets just take form and develop into personal stories and statements.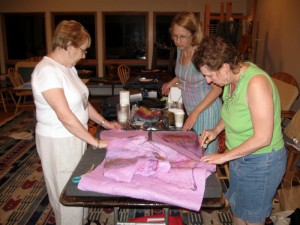 Some of the students continued to work on their felt panels, embellishing and piecing, well into the second day.  Can't do that with handwoven yardage, it is what it is.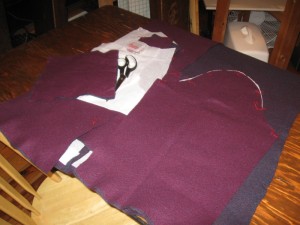 The range of fabrics was amazing, from gorgeous flat wools, to textured collages of bits of everything that could possibly be held down by the wool. The layout was thoughtful, and well planned, and placement of the natural edge of the felt was used in wonderful ways.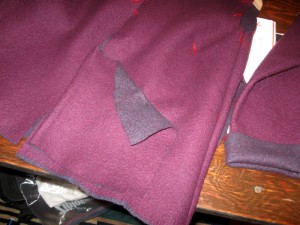 We even had some interlopers come in from other classes to use the needle felting machine I brought, or the free motion stitching capabilities of the sewing machines I brought.  I own a Janome xPressions embellisher machine, and of course I brought my Janome professional 6600.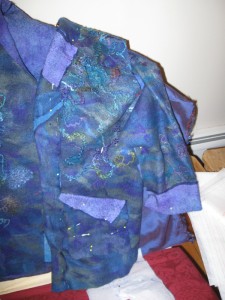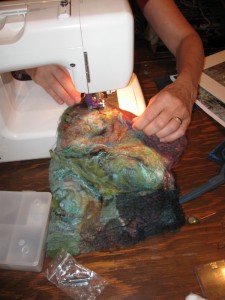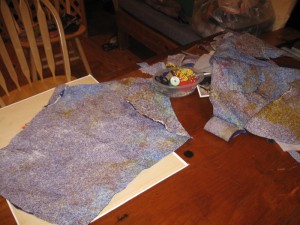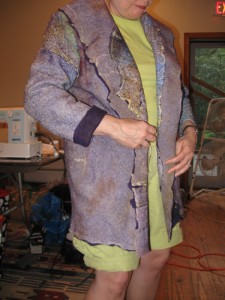 I'll try to get some photos of all the nearly finished jackets tomorrow afternoon after the class ends, before I head home.