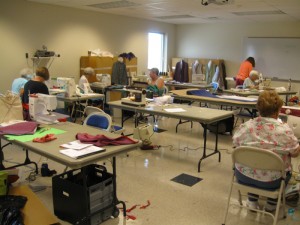 In spite of my exhaustion, and all the past couple days' events, the workshop went really well.  I had a terrific group of 14 women, 13 of whom had actually handwoven their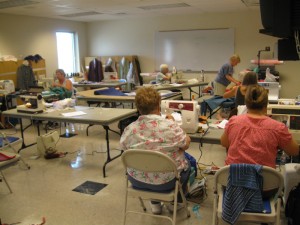 fabric for their jackets.  They were all so supportive, and eager, and talented, and I was privileged to work with them.  They worked so hard, we kept each other going, they were as tired as I was, so it became a real group effort!  And we all rose to the occasion.
Each of the fabrics was so unique, and it was great to see how each of the jackets progressed, students' confidence grew, old habits were broken, and new skills acquired.
We broke for dinner, and on the way across campus to the student center, I passed a lovely installation between the trees, hand dyed warps drying on the line.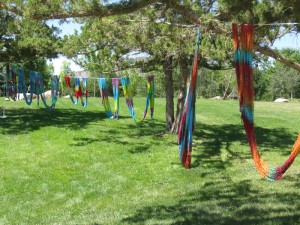 I found out from the conference community that I had won a door prize.  Apparently all conference participants' names and those of the faculty had been entered.  I won a beautiful silk scarf from Lantern Moon.  I looked at it as a new raw material, and spent a couple minutes draping it around my body to see what the fabric would do.
Then I quickly dressed into my Frosted Florals Gown, and headed to the concert hall for the fashion show.  I was the moderator.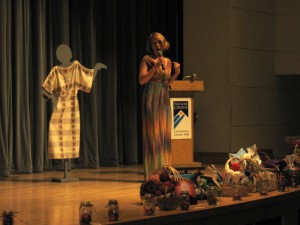 The figure to my left, was a vintage handwoven garment by the late Mary Pendleton, an icon in Sedona, Arizona.  She founded the Pendleton Fabric Craft School and Studio, which became a mecca for fiber enthusiasts from all over the world.  Two of her garments were loaned for the fashion show, and one of them kept me company while I moderated the show.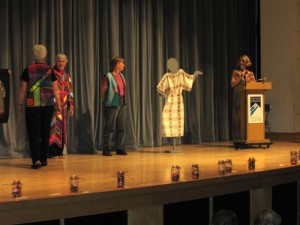 One of the highlights of the fashion show for me was the trio of students from my pieced vest class from two years ago.  Three of the garments worn came from or were influenced by techniques learned from my class.  Each had a story and the artists modeled their own work.  The commentary had been written for me by Margaret, the hard working fashion show coordinator.  And what was even more fun, was the addition of items like art quilts, and non wearable items.  We all laughed and clapped, and had a great time.  Three of the garments had actually been previewed at the Convergence Fashion Show in Tampa last summer.  This is a talented bunch!
Stay tuned…