Last night I went to the theater.  My husband and I have had subscription seats to the Papermill Playhouse, a wonderful theater in Millburn, NJ, for more than 25 years.  We have seen an amazing variety of shows, all first rate, some even better than when we saw the show on Broadway.  I cannot tell you how much I look forward to going to the theater six times a year at the Papermill, and then there is the requisite high school production, and since my son is a Musical Theater major at County College of Morris, we enjoy shows there as well.  He had one of the male leads in this fall's production of Hair.
Anyway, last night was the perfect January production, Oscar Wilde's The Importance of Being Earnest, starring Lynn Redgrave.  It was a wonderful production, the timeless and hilarity of an Oscar Wilde production is welcome anytime, but especially in a cold snowy January. The costumes and sets were exquisite.  Like a good book, theatre can take you away and make you laugh and sing, and teach you something, an make you take a different look at the world around you.  There was a wonderful quote from Oscar Wilde written in the Playbill,
"No great artist ever sees things as they really are.  If he did, he would cease to be an artist."
And now for an update on Project Three. I know I skipped over project two.  If you go way back to the archives for this blog (you don't have to go that far back, I only started this in December) you will see the description for the fabric I called Leaves and Berries, in Project Three.  I have a deadline to meet, this one for entry in the fashion show for the Surface Design Conference in May in Kansas City.  I had two garments in the show in 2007, and I'd love to have another one or two in this year's fashion show.  The deadline is February 1st.  There is nothing like a deadline to kick you into overdrive, and make you focus on the task at hand.  It is when I am at my best, and can really hyperfocus.  I will do a photoshoot right before the deadline, and photograph the dress from project one, which is almost finished except for some thread loops for the hooks at the center back.  And I am hoping to get another "wow" piece that will photograph well as you can enter up to three garments.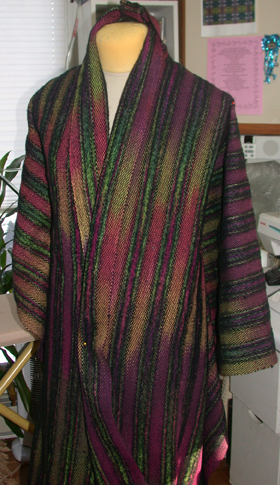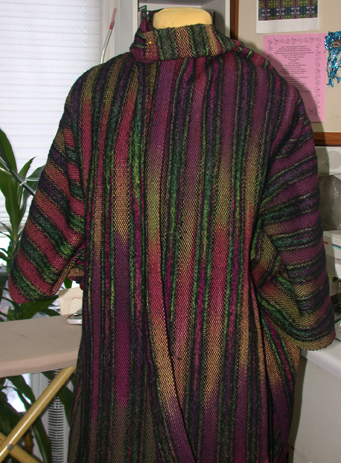 So I looked at the projects I've lined up, and picked the Leaves and Berries Fabric.  Since this is a Surface Design Conference, I wanted to use the fabric that had the most  surface interest, and this one fit the bill.  I want a simple coat, one that doesn't have a lot going on as far as design, this is a very busy fabric, and very linear, and I wanted to show that off.  I found a Burda pattern that roughly had some of the lines I liked when I draped the fabric on the dressform, and an interesting sleeve treatment with a gusset under the arm.  There is topstitching called for, and I have some of the leftover dyed warps I want to play with, making a twist ply rope to potentially couch down the areas that call for topstitching.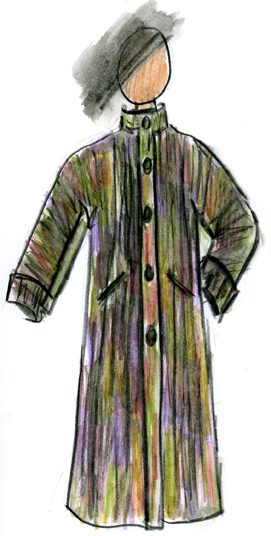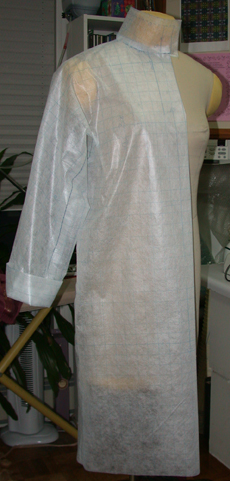 I played around with draping the fabric on my form.  I tried a shawl collar, and I liked the stand up collar better, and the unbroken front, with large black buttons, or dark green, depending on what I can find at Acme Fabrics.  Because the fabric is wider than I normally weave, I have a chance of getting a full front or a full back out of a width of cloth, maybe piecing at the selvedges to squeak out a bit more width for the sleeve.  I drew what I thought it would look like, and then made up the pattern.  I sewed the half pattern  together with machine basting, and tried it on.  The coat looked good to me, now to make a quick muslin with both halves.
My husband left tonight for another trip to Mumbai.  He will be gone for about two weeks, so I'll be able to really hunker down and focus on this coat.  Stay tuned…