Even though I travel around the country and lecture and give workshops to handweaving guilds, up until about two years ago, I hadn't actually joined one myself.  Way back in the late 70's when I first learned to weave, I did belong to the Palisades Guild in Northern NJ, but once I became a professional weaver, selling my work in craft fairs, I didn't really see how a guild would benefit me, and how I could even take the time.  Once I started to teach, giving up the craft fair circuit in 1989, I still hesitated to begin a relationship with a guild, even though I knew many of the members from conferences and from lectures I'd given.  How sad for me…
In 2006 when my fiber mentor mother-in-law Margaret Lancaster died, at age 99 (you can read about our fiber relationship on my website, look at the story called Circle of Threads), I felt like I had lost my fiber family, and as I traveled around, I felt jealous of guild members that had made the guild their family, the members watched out for each other, and when one died, the guild stepped in and absorbed their stash, keeping the fibers productive and the memory of the handweaver alive.
So I decided, 24 hours after the death of my mother in law, to attend a guild meeting as a member.  I confused some of the members there when I showed up, they thought they might have booked me to speak and not remembered.  But then they opened up their arms and welcomed me, and made me one of them and I have loved every meeting I have attended.  I'm now a member of two guilds, one that meets in the evening, and one that meets on a Monday during the day.  The meetings are well attended, by a variety of fiber enthusiasts, not all of them handweavers, some young and inexperienced (like my 16 year old daughter) and some very old, and whenever they manage to get to a meeting it is a cause for celebration.
Today was the January meeting of the Frances Irwin Handweaving Guild.  There are some amazingly talented handweavers, fiber enthusiasts, and sewers in the group, and I feel blessed to be able to bring a project to them and have some real feedback.  I love show and tell, it is my favorite part of the meeting.  I learn so much.  Even the most beginning projects, I learn from and I love the encouragement given to members who show their work.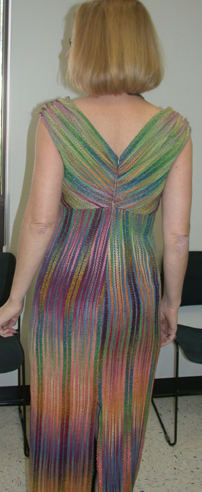 So I put on my dress, even though not all of the handwork was finished, and there were still tailor's tacks everywhere, and modeled it for the group.  Many of them were following the blog, and were thrilled to be the first ones to see the dress.  Everyone ohhhh'd and ahhhhh'd until I turned around.  I could tell something was wrong.  One of the difficulties of sewing a garment for yourself is not being able to really see behind you.  I had Sally, one of the members, take a photo of me in the dress, and when I checked the images to see if I was happy with them, I was rather shocked.  I called over another member Margriet, may I say an exceptional weaver and sewer, and asked if my butt looked like the beachball that it did in the photo?  She admitted that it did, and we discussed the problem, which was basically the angle of the grainlines as they moved in on the bias line towards the bodice.  I looked like I stuck a gargantuan pear into the back of the dress.  So we talked about the fix, and I felt much better, ready to take the dress apart in the back, and rework the skirt under the bodice.  I need to straighten out the skirt grainlines in the center back, and take small darts around to the side.
So what went wrong?  Two things, one, the muslin fabric was a solid, not a stripe, so I couldn't have foreseen this effect, and two, the drapey rayon fabric grew a lot as I sewed and pressed it, not unusual for a handwoven, and to get this to fit my narrow back snuggly, I had to take in about four inches in the upper back, changing the angle of the grainlines.  So stay tuned to see how this all turns out, I will make an attempt to fix this, and do another quick photo shoot.  Meanwhile thanks to all the Frances Irwin Members who had the guts to tell me when what I did wasn't so great!
PS, you may want to check out the comment from Fran in the previous post.  Fran asked for me to comment on how I accomplish so much, as a new weaver, Fran found it hard to get to the loom, life kept getting in the way.  See what I shared, and please feel free to add your thoughts on how you find time to weave during your busy day.