Thursday, January 1, 2009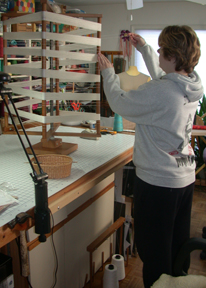 Happy New Year! I love January. It is my favorite month of the year, because it is a long month, uninterrupted by holidays, calendar events, school activities, and it is too cold to do anything outside, like gardening. I've traditionally done my most productive work in January, plus I adore the idea of a fresh start. I'm not big on resolutions, just the idea of a clean page, sort of like opening a new journal, where I can begin the new year with fresh ideas, and see where the year takes me.
I have a lot to accomplish in the next few months. I won't really start to travel again until the summer, when conference season begins, except for the Association of Southern California Handweavers Conference in Riverside, the beginning of March. http://www.colorconnects.org/
So I have an unusually large block of time to explore things, work on the projects I've been outlining, and among other things, learn more about website development, redo my whole website, and develop one for my guild. I got the new Adobe Creative Suite 4 for Christmas, which contains Dreamweaver, which will help bring my poor Microsoft Front Page developed website into the 21st century! I love learning new things…
So, my daughter (who actually has a name, Brianna) is winding the 12+ yard warp behind me as I write, for our placemat exchange, she initially balked when I said she had to wind 384 ends, but with two cones of 10/2 warp, it goes twice as fast, and every couple of minutes she calls out that she has done another inch worth of warp. I showed her how to use a counter I made up, from a small basket, pierced with a bamboo skewer, where I've strung sewing machine bobbins from a machine I no longer have. With two threads in her hands, finger in-between so they go through the cross independent of each other, each pass up and down on the mill equals 4 warp threads. If she does that six times, then she has 24 threads which equals 1″ of warp. The mats are 16″ wide. So she settled down when I mapped it out that way, only 16 times instead of 384 threads. Each time she goes up to the top of the mill and back down, she slides a little bobbin on the skewer. That way she can listen to tunes and only moderately pay attention. Which is great for a 16 year old with ADHD!