Tuesday, December 23, 2008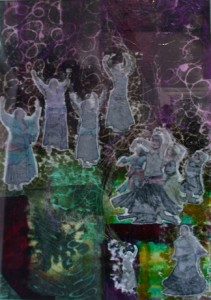 The last minute scramble is on, as I write I'm still thinking of last minute gifts to wrap, hand-made soap to put out for the postal carrier, (did you know they aren't allowed to accept money for a tip?), (Oh, and don't be impressed, I didn't make the soap, my friend is a bee keeper and makes fabulous soap, check it out on http://www.gooserockfarm.com). I did work in the studio today, making and finishing up last minute gifts, trashing the studio, working on a collage to celebrate a milestone birthday for one of my friends. I'm finishing up one of the muslins for project one, the frosted florals dress. Pictures will eventually come, but I'm going to take the next few days away from the computer, the blog, the studio, and spend time with relatives, family, friends, and the spirit of the season.
Remember to take time for yourself, time to create, time to celebrate that, for today, you are alive and the stash is calling!