Raw Material Girl…
If you are a spinner, you know that the whole point of what you do is to make new raw materials from old raw materials. You take fleece, and then spin it up into a usable yarn. But you still have to do something with it.
Fiber is a pretty labor intensive passion, and for many of us, the end product is not nearly as relevant as the journey to get there. My favorite place in the world, Peters Valley, had a poster a number of years ago, which hung proudly in my studio for awhile, "Process not Product". It is what makes us jump out of bed in the morning and dive into what we can't see ourselves not doing. The fact that I have a closet full of show stopping award winning garments, that are completely out of place in my everyday life, does not deter me from diving into the next great garment.
I love to weave. And I love to sew more. So weaving for me has always been more about making something to sew, weaving yardage that one day I'll cut up into a very cool garment. Both are processes that happen independent of each other. I love to knit. And occasionally spinning my own yarn to knit with is actually pretty cool.
I love to combine color, especially with yarn, but too often, I find that what's on my shelves is pretty limiting. A pound of this, a few ounces of that, stuff I picked up in my travels, all valid, but very limiting. I've just had the best time in recent years taking the white yarn off the shelves, and I have a lot, like a real lot, and winding it off into 2-400 yard skeins including colors I don't like that I want to overdye, and tossing a bunch into a dyepot, maybe a pound's worth, and seeing what I get. If I have 10 different cellulose yarn skeins, cotton, rayons, combinations, Tencel, etc, they all take the dye just slightly differently, and the results are a wall of inspirational color.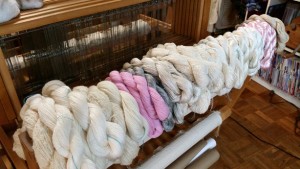 But all that takes a lot of time. I've been pretty steadily working over the last six weeks, winding skeins, paying a friend to wind skeins, making my poor intern from the local community college wind skeins, until I'm at the point where I never want to see another white yarn again. A pound a day over a six week period, is a lot of yarns. I have a lot to show for my efforts. I even painted a couple of warps while I was at it.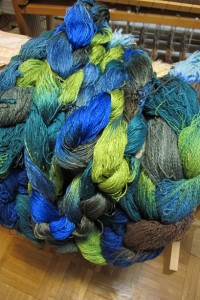 Again, all raw materials, turned into different raw materials. I can't wait to see what I end up doing with this gorgeous wall of yarn.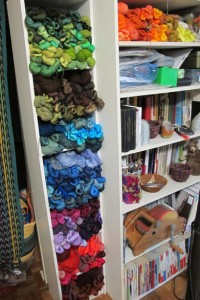 I gave a lecture about my dyeing adventures, a Visions Corning Dutch Oven full of cellulose yarns with Fiber Reactive Dyes, and a crock pot with wools, and old Cushing Union dyes that were hanging out in my cabinet from probably 20 years ago. I was running two dyepots a day, and so I did a mock dyeing lecture for my weaving guild the beginning of January, and showed them how much fun I was having. You can tell how much fun I was having because these are the best photos anyone has ever managed to get of me in action. Usually my face is all contorted because, well, I'm animated when I talk.
A couple years back, I had the crock pot going with handfuls of fleece, dyeing them also with that huge box of Cushing Union dyes, and I am thrilled to say, the box is getting smaller. I took those dyed bags of fleece, and used a carding machine and made huge stacked bats of fleece. Then I felted the bats all together. I cut them on the crosswise, into colorful strips, and it gives me something to play with, a new raw materials I can play with to become something else. And play was one of the goals of these few months at home before I start traveling again.
Urged on by a couple of exhibit deadlines, I played until I actually got a few pieces, which I took to my critique group. It was nice to have something to show them other than clothing. I found as I played with this pile of raw materials, hand dyed wet felted stacked bats, cut into strips on the crosswise, that as I needle felted the strips onto a commercial wool felt backing, I kept finding that political themes kept creeping into my subconscious. How could they not? That's all that's out there in my news feed, the news paper, news programs on public radio, and anywhere else I hear about the vitriol and unease in the world. I feel like we all need to go back to Kindergarten and learn to play well with each other again.
And so this piece is called The Wall. I'll let you dear readers decide what kind of wall this represents. There is more than one right answer…
This piece is called Climate Change. Obvious title.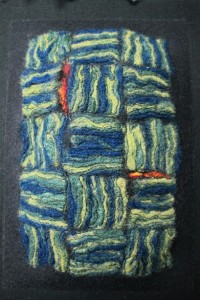 This one is from the Chromosome series I did a couple of years back, but never finished the piece, it is called Union.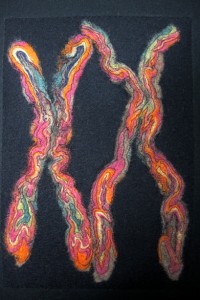 And this one has a more complex title, "e·vis·cer·ate, verb, deprive of vital or essential content". I love this piece. It says all that I'm feeling about the current state of affairs.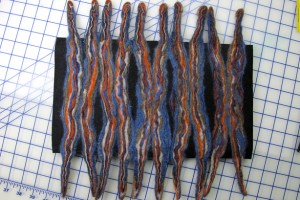 And so I continue to make more "raw materials", because it gives me more creative options down the road, and because I can, and because it is the process that draws me to what I do, not the end product. In between entertaining a crew of contractors that are crawling through my house, having taken advantage of a very mild winter, I hang in my studio with my dogs, and just make stuff, that will eventually allow me to make other stuff. In between, I sort, rearrange, toss out, and simplify my life. I'm having fun in spite of the chaos around me.
Tomorrow I will attempt formal photos of all these pieces, trying to figure out how to use my husband's equipment, since he left me no instructions. There is Google for that. And since we are suppose to get a foot of snow, I'm not planning to go anywhere, and as far as shoveling, I have people for that now. I get to just sit in my studio with my dogs, and make more raw materials.
Stay tuned…