Don't Cry for Me…
I of course am self employed.  My "office" is my studio which is about 40 feet from my bedroom on the second floor.  My morning commute consists of walking downstairs to the kitchen, making a large mug of tea, grabbing some home made granola and goat yogurt, and plodding back upstairs with the tea to begin checking emails and working on projects in the studio.
Notice I didn't even mention getting dressed.  Why bother?  My jammies are really comfortable when crawling around my studio.  Saves on laundry.
So today, we had yet another snow day.  Sigh.  Nothing horrid, just a lot of ice and yucky stuff, but on top of what we got Monday, it is getting pretty clogged out there.  NJ does know how to get rid of snow, but local municipalities are starting to run out of money.  No one saw this many storms when writing last year's budget.
Anyway, all over facebook, schools are closed, offices are closed, my daughter's college in MA was closed,  my intern couldn't make it in, roads were reportedly awful. I wouldn't know.  I never went outside.  I don't get snow days.  I just wander down the hall 40 feet and I'm at work.
This could be really really wonderful or really really awful depending on your perspective.  My poor husband works in the office attached to the bedroom, his commute is something like 20 feet.  He spent the whole day on exhausting conference calls.  I think he wished there had been a snow day for him.  I did what any self respecting fiber person would do to counter the grey icy mess outside, I dug out all the small balls of leftover hand dyed yarn I've squirreled away from my various scarf runs on the loom.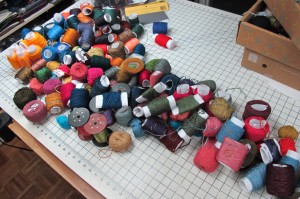 I wanted to try a different type of scarf than I usually weave, based on the yardage I did for Convergence Long Beach yardage exhibit.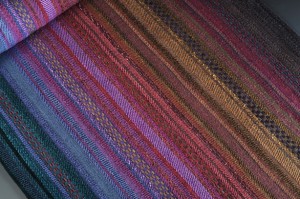 I lined up the colors I thought would work together into some kind of gradation.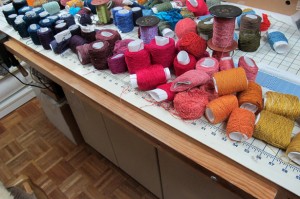 I wound a pair of ten yard warps, each half the width of the 10″ scarves.  They would come together in the middle at the bright pink.
I went to the loom, and sleyed the reed, adding the supplemental warps on top of everything else…  It was a bright and colorful day!
Meanwhile…
I cut the Crimp Cloth I wove off the loom, finally, and began pulling all the shibori threads while watching the Super Bowl Sunday night.  (I only lasted until 9pm when Downton Abbey came on…)  I continued pulling all day Monday.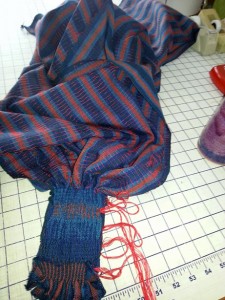 Monday night, I steamed the fabric while I made dinner.  Thanks for all those who responded to my cry for help on Facebook when I discovered in my notes that there was no mention of how long to steam the fabric.
After letting the coil dry overnight, I carefully removed all the shibori pull threads and got a really really cool crimped cloth.  There are about three yards there, and I can't wait to figure out what to make with it.  I'm on brain overload…
And finally, I uncovered my big loom, sat down and started to weave off the mohair yardage that has been on there way more than a year.  It wove like fuzzy butter, (Ok that's not a good visual) but spraying the back of the warp behind the heddles with good old fashioned spray starch kept the mohair from sticking and I just emptied one bobbin after another.  I'm hoping to weave  most of it tomorrow so I can get to threading the scarves and I'm getting close to thinking about actually sewing the felted panels into a jacket.
I'll take a snow day anyday.  I just keep on working…  (But I do have to acknowledge here that my wonderful husband who works down the hall, and my son who lives in the basement, have been the ones to go outside and tirelessly shovel and clear snow.  I'm sure I'd feel much differently if I was out there wrecking my back with all this very heavy wet stuff. )
In case you were wondering, I did manage to dodge storms yesterday and meet with my critique group.  They loved the new Chromosome series of felted artworks, and really encouraged me to keep at it.  I came home yesterday afternoon really really pumped.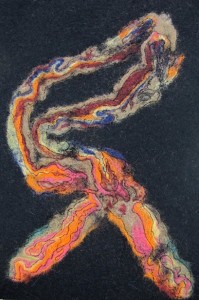 A shout out to my wonderful son who turned 24 today.  It has been a roller coaster of a ride but totally worth it.  You turned out pretty well.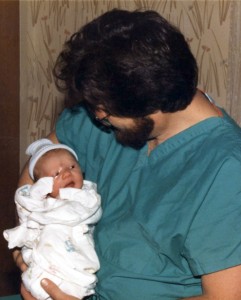 Stay tuned…