Finally…
I spent most of the early part of the weekend trying to clear my cutting table, determined to do something that didn't involve recycling scraps into some form or another.  I desperately needed to make something new and fresh and current and really really colorful.
I've already mentioned the fabric I've been mulling over in my head, but I needed some complements for trim, and because of the simplicity of the design lines in the coat I had decided to construct, I thought a lovely contrasting piping would be in order.  I went "shopping" through my stash and hit on a long length of a silk sari in a mauve color for the lining and this gorgeous yard and something piece of brown wool crepe from Waechter's in Asheville.  I pulled a couple dress patterns to see what would fit on the yardage, since it was 60″ wide, figuring I could use the scraps for bias for the coat, but everything I liked needed more fabric than I had and nothing for leftovers.  (I know, I'm really trying to avoid the whole idea of scraps…)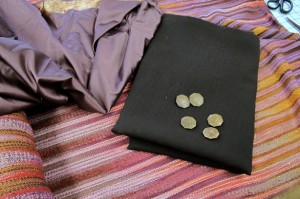 I settled on a pattern I've already used, for a skirt with really interesting design lines, Vogue 1324.  I like the skirt, and it would be beautiful in this brown wool crepe. Plus the pattern work was already done.  I'm a firm believer in reusing patterns once you get them to fit…  After preshrinking the yardage and lining, I cut the skirt pieces out and set them aside.
Meanwhile, I pushed all my floor looms up against the far wall which gave me about a 3 foot walk space where I could unroll this 7+ yard length of handwoven yardage.  I had to spend a couple days moving pattern pieces around to get the layout I wanted from the design areas I liked.  I did end up using the right side of the fabric, and once I nailed the layout I wanted, I moved the fabric up onto the cutting table, partly to make sure the grainlines were all perpendicular, and partly to preserve my back.  The lighting is better on  my cutting table and there is a grid to help align grainlines.
I did fuse a backing onto this coat.  I used black texturized weft and it created a lovely stabilizing effect and will keep the mostly rayon yardage behaving itself.
First up was of course the buttonholes.  I used an on-grain fused piece of the brown wool crepe, and made my strip, cutting the strip into sections to place onto the front of the garment.  I explain this method of bound buttonholes in my book "Closures".
I stuffed the lips of these buttonholes with some chunky yarn so they are a little softer.  I'm really really happy with how they look, especially with the button.
So, trimming out the major seams with wool crepe piping and couching with a hand dyed rayon yarn, instead of topstitching in key areas like the pocket flaps,  really helped define lines and show off the colorful areas.  I'm really really enjoying sitting in my pajamas and just sewing, and seeing where this piece takes me.  I tried the coat on for the photo and am so far pretty happy with the fit.  The sleeve is still roomier than I'd like but it is a raglan, not a set-in and I think balances the coat's shape.  I can see wearing this coat a lot this fall.  I'm mulling over whether I should put in an interlining for warmth or just leave it as a mid weather fall coat. (I do have a number of heavier handwoven winter coats already…)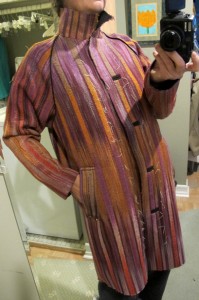 Stay tuned…