Domestic Simplicity…
I thought that having three week long venues in August would just about finish me, but actually, I'm sort of drifting through the month enjoying simple days and old fashioned domestic bliss.  Go figure…
First, let me back up a bit.  All the way to 1971.  In the craze of the macrame movement, none of us were immune, I got a feature write up in the local press about my adventures with the craft, while I was still in High School.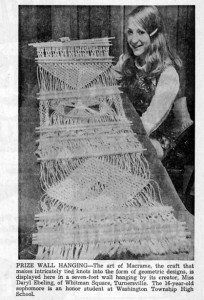 The thing is, I actually was quoted as saying the following…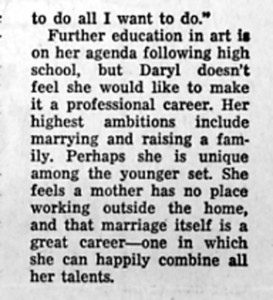 My children (and I'm lucky here that neither read my blog) have never seen this quote, and it isn't really something I subscribe to today, and I'm not even sure why I said what I said back in 1971 except that my mom was a stay at home mom, and I adored her for it, and I wouldn't have changed a single thing about my childhood and all the things she taught me, but when it came time for me to head off to college a mere two years later, I wanted much more…
Yet, the lost arts of domesticity aren't really lost…
I was catching up on some back episodes of The Colbert Report on Comedy Central, and this episode from July 31, 2013 came up.  The guest that night was Emily Matchar, author of the new book, Homeward Bound: Why Women are Embracing the New Domesticity.  It was an interesting interview, and of course Stephen Colbert rarely let her get a word in, as is usually the case, and I wanted to hear more, and may actually buy the book.
It seems that there is this glorious return to things like canning, and knitting (well duh, no surprise there) and all sorts of things our "grandmothers" did.  I tossed canning awhile ago since I needed some large dyepots, but anyone who hangs in the fiber community knows that we have all kept the domestic arts of knitting, weaving and spinning alive for the last 30 plus years.
There is something very positive about all this though…
My husband, who has finally been home for a spring/summer, back from his 2 1/2 year stint in Saudi Arabia, spent a lot of time in the gardens this year.  To say they are spectacular would be a huge understatement.  He not only built a greenhouse, but started a bunch of seeds under lights in the basement, and we have prolific color all over the yard and in addition, we have the best vegetable garden we've ever had.  All of the beds are new and raised up,  fenced in and drip water lines installed.  The harvests are coming in fast and furious, and I'm spending the days I'm home from teaching, in the kitchen cooking and chopping and freezing (I still refuse to can…) and putting up as much as I can for the winter.  Last Sunday I cooked for 14 hours straight.  I make Tabbouleh, I make pickled cucumbers, I oven dry cherry tomatoes, I make zucchini bread.  I make batches of pesto and quarts of tomato sauce and freeze them.  And I'm loving every minute of it.  Fortunately the summer is such a short time, fall and cooler weather will be here before we know it, but for now, I'm puttering around my house with a new sense of ownership, and actually thinking I may do a bit of redecorating this fall when my teaching schedule quiets down.  And my stress level is at an all time low…  Go figure…
I have no regrets about any career choices I've made, and I wouldn't have taught my children anything different, but there is something wonderful about the simplicity of caring for a home, putting meals on the table, actually washing dishes by hand, and eating off the good china, because we can.  There is something about polishing a stove, sweeping a floor, making the beds, folding laundry that settles the soul and makes life seem orderly.  I'm glad I had the opportunity this summer to smell the roses.  And taste them as well (actually that would be nasturtiums…)
Meanwhile, Saturday I attended the Jockey Hollow Guild Annual Dye Day.  We have a member who is a prolific dyer and who has just about every color of MX fiber reactive dye that Pro-Chem and Dharma sell.  We all hauled our dyeables down to the club house in her condo complex, I think there were more than 15 who attended, and there was a plethora of tie dyed t-shirts and warps, and skeins of yarn and I got not one photo.

 I was too busy painting my own warps to even look around.  Fortunately one of the members who stopped in to watch grabbed my camera for me.
I came home with two painted warps, based on the Pantone Fall Fashion Forecast, a number of handpainted skeins of yarn, and some rayon scarves that I used for dye mops.  I also brought home three jars of excess dye leftover, and continued more dyeing Saturday night, adding some pre-wound skeins I had laying around.
Which meant I spent all of Sunday rinsing, and rinsing, and rinsing some more.  Of course when I started hanging the warps and skeins on the line outside to dry, it started raining.

So this morning, in hopes of a warm sunny day, which it turned out to be, I took all of my still wet skeins, and warps and hung them out to dry.  I love this palette and can't wait to get the loom set up for another run of yardage.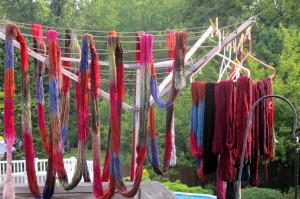 Really looking forward to the fall…
Stay tuned…