Moving down the coast…
I'm now entering week four of Daryl's Excellent California adventure.  I know all of you dear readers, especially those on the east coast who are enduring nasty winter weather assume I'm basking in glorious California sun, but truth be told, it is rather cold and at the moment it is windy and rainy in San Diego, and there have only been two days on the trip so far that I haven't worn my heavy winter coat.
I rarely get photos of me actually teaching, but Marilou sent me a few right before I left Santa Cruz and I had someone snap a shot of me with my camera while I gave the keynote address to the Central Coast guild, and we all laughed because anyone who has ever tried to take a photo of me in action gets one with my mouth in the oddest shape.  I know I'm animated when I talk, but the photos are always hilarious.
And so, after the morning keynote in Santa Cruz, we packed all my stuff in a van, and Merrie drove me to her house, near Monterey, where we picked up her husband and menagerie, two dogs and a bird, and we all headed down towards the central coast, where we did a hand-off in a Starbucks parking lot.  I feel like contraband…  I know I'm an animated talker because the bird laughed at me every time I said something funny, he started copying my speech pattern…  Nancy picked me up at the Starbucks, and off we went to the third stop, at her house in Morro Bay.  I've stayed with Nancy a couple times before and am beginning to feel like I have my own room there.  Jerry met me with a glass of wine and I felt right at home.
I did manage to grab a bite at a local Panera after the Thursday keynote for the Central Coast Guild, where they had outside dining, and I was actually able to eat outside without a coat.  It was sunny and lovely.  That's Becky on the left who gives fabulous massages and Nancy, my hostess for the week in Morro Bay, on the right.  I'm sitting next to Karen.
Last Friday, I began what was actually the toughest class on the trip, and I think my most successful.  I had 18 students from the Central Coast Weavers Guild for a three day jacket construction class.  We use my jacket pattern and custom fit it to them.  All of the participants were hand weavers, but not all chose to use handwoven fabric.  Fit is important, and we worked hard to get it right. The class was located in an honest to goodness straw bale construction barn, I've taught here before and marvel at it each time I'm in this amazing space.  The barn is built around straw bales which makes for a solid insulated and beautiful soaring space.  There is a wood stove which owners Kay and Rosemary kept well fed. And of course no workshop of this magnitude would be complete without the requisite food spread.
The participants worked really really hard, and no one complained, they just kept at it, meeting by sewing machines, and by the ironing boards, they ripped out together, and soldiered on.
And in the end we had jackets.  I didn't get a chance to photograph the entire class, and some still didn't have sleeves, or had only one sleeve, and all of them needed an extensive amount of handwork, but the fit is amazing on all of the jackets, and I'm so very proud of my amazing California women.
And we had some handwoven jackets in the group, including a vest from handwoven fabric from Ann's stash from 20 years ago.  She was so thrilled to finally find a use for this particular fabric.
And speaking of vests, I gave a pieced vest class to this group a couple of years ago, I know I wrote about it in my blog, but I never actually got to see the finished vests.  Some of the participants wore their vests to the guild meeting, and I am sorry I didn't get photos, but a couple wore them to the jacket class, and I got an especially poignant one with Sally, who is standing next to a gorgeous vest made by her guild mate Carly who is no longer with us, Carly passed on last year and left a huge void in the guild.  It was clear how much she is missed.
And so, exhausted but happy with the success of the class, we loaded me in the car, and headed south,  for yet another hand-off, this one in Solvang, which is of course the home of Village Spinning and Weaving.  I see John and Marsha at all the conferences, but have never actually been to their shop.  I wasn't disappointed…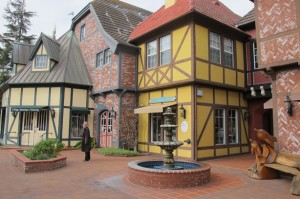 Judy picked me up in Solvang, and off we drove the rest of the five hours or so to San Diego, stopping for lunch in San Juan Capistrano, at a lovely cafe across the street from the mission, called Cedar Creek Inn. Once again, I was able to dine outside, in the warm sunshine without my coat.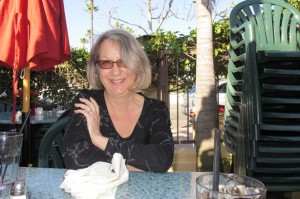 And now, I'm in San Diego with my wonderful friends Amy and Bill, fantastic cooks, and great company.  I'm starting the last workshop of the trip, a five day intensive with a small group of women whom I've worked with before, and I hear they have wonderful challenging projects for me to help them with…
Stay tuned…