The adventure continues…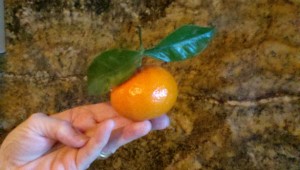 What a wonderful ten days I've had so far, I'm busy, and surrounded by creative energetic women, and I didn't have to shovel any snow, completely missing the blizzard at home.  Life doesn't get any better than this. And the trees are brimming with fresh citrus, I'm still not sure what to call this, tangerine, Clementine,  mandarin orange, and a myriad of other names have been floated around, but they are delicious and this is one thing I can't buy in NJ, fresh off the tree citrus.
I've moved on to my second housing location, staying with Marilou, who is just an amazing feltmaker and all around wonderful human being.  There is a different kind of creativity on the west coast, and I'm always energized when I am here among all these delightful women and men. This part of the trip is non-stop, I've hit four different guilds this week, starting with the Menlo Park American Sewing Guild chapter on Friday where I gave a presentation in Photographing your Work.  In addition to the lecture we had a critique of some of the members images.  Saturday was a two parter…  In the morning I gave a lecture on Color and Inspiration to the full membership of PenWAG, which is short for the Peninsula Wearable Art Guild.  There were more than 75 wearable artists in the group, and I felt a bit intimidated…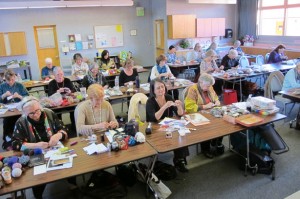 I got some terrific feedback, and then we packed up and moved locations and in the afternoon, we had a hands on workshop and actually created some wonderful palettes based on exercises I gave them, wrapping yarns and strips of fabric.  What an amazing group, we had a blast.
Enjoy some of their results.
On Sunday I spent the day with the same group, different participants, at yet another location, on the topic of closures, and I love when fiber enthusiasts tell me that I've unstuck them from a project that has been giving them grief.  I didn't bring my camera out on Sunday, but I had a wonderful time with everyone, and then we packed me up and we headed back to Marilou's house.  Marilou is a fabulous cook, and these amazing casseroles and soups would appear if by magic.  I couldn't figure out how they were cooked/prepared while we were away teaching all day, but she fed me well and the wine and chocolate flowed.  Marilou gave me hints on felting with the dryer, and I let her trace off a jacket and vest pattern.  And of course Sunday night we watched Downton Abbey…
Yesterday we headed off to yet another venue, this time Glenna Harris Handweavers in San Jose I believe.  I'm not always sure where we are, my driver just takes me to where I need to go, and puts me in front of a class, and turns on the switch. I gave this group a presentation on washing and finishing their handwoven fabrics, the same class I did for Convergence in Long Beach. When we were finished, we all headed out to lunch.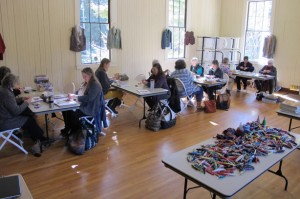 Today was day one at Santa Cruz  Handweavers, yet a different venue where we did another color and inspiration workshop.  I think of all the workshops I teach, I love this one most, because it is just pure fun and the palettes and warps that come out of it are pure inspiration.  So many of us are not confident in how we put colors together, and this class is like a permission slip for a field trip to fun.
Enjoy more fabulous color…
And so tomorrow morning, I get to give the same guild (different location) a lecture I call Parallel Threads that Parallel Life, which is really about my journey over the years with fiber.  It is always good to look back and know what a great journey it has been.  After the lecture, I transfer all my myriad of suitcases and boxes, and off I go to the Central Coast, to yet another venue, where I give the same lecture and then a three day workshop. It will be good to stay in one location for a workshop for more than just a few hours!
Stay tuned…