Survival of the fittest…
Last week was one of those really really hard weeks, nothing terrible happened, it was actually all good, just really really hard. I wanted to walk around with a t-shirt declaring that "I survived"…  I finished up teaching my four day class at the Newark Museum, there was lots of weaving happening…
On the inkle loom…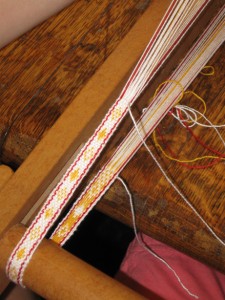 On frame looms… (not bad for one day's work…)
And then dear readers, I raced home, unpacked everything yet again, (stepping over all the piles of stuff my daughter is packing for college) and repacked to head out early Friday morning for the NJ State Fair, where I demonstrated weaving for the public in the Performing Arts Tent along with a dozen other craftsmen who love Peters Valley and gathered to celebrate what Peters Valley has given to the craft community.  We have been supporters of the Valley for many years.  It was a privilege to demonstrate, (even though I wanted to fire my appointment secretary for scheduling this right on top of a four day class at the museum) even though we started the morning with torrential rains and hardly anyone came to see us.
Brianna (my daughter for those of you who are new to this blog) demonstrated along with me, and I talked to whoever seemed remotely interested in weaving, netting me two mentions in local newspapers.  Here and Here…
Saturday morning we headed down to Maryland for a little bit of R&R and a family reunion of sorts.  The Maryland cousins try every year (seems to me there was a hurricane last year…) to get together, to keep in touch, and we were moderately successful in getting most of the cousins there (and a couple of the aunts as well).
There was fishing (that's Brianna again)
And there was boating (that's my cousins…)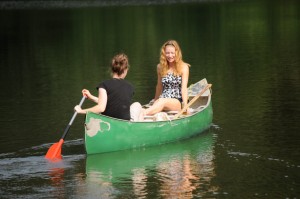 And there was swimming, or maybe thoughts of swimming… (That's Gypsy…)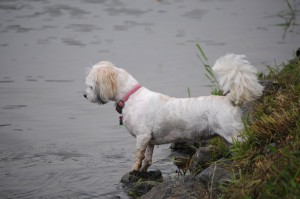 And there was my mom who was overwhelmed when my daughter presented her with a folded paper peacock (600 squares of paper folded and interlocked)…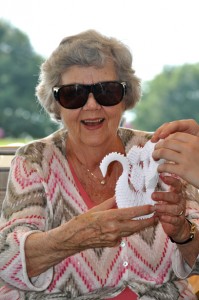 And there were my sisters, whom I adore, and it is a rare treat to get the three of us together…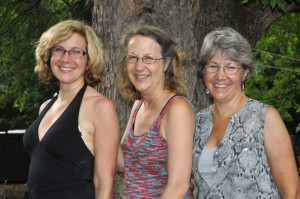 And of course the "group" photo…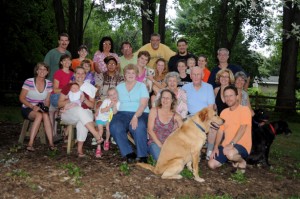 And then on Sunday we drove over to my cousin's dairy barn where Brianna went in search of peacock feathers to decorate her dorm room (she hit the mother lode…)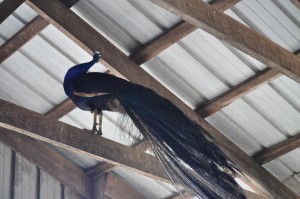 And of course cows (though she much prefers Belted Galloway beef cattle over Holsteins…)
And now, I am semi-rested, and repacked, and planning to hop on a flight tomorrow mid-day to Houston where I'll be teaching at the American Sewing Guild Conference.
Stay tuned…