Rrrrrroute recalculation…
I miss Thomas.  He was the British guy that lived in my old Mio GPS unit, which I ditched when I switched to an Android and Google Maps.  Sigh…
Whenever I would turn in a different direction than Thomas had mapped out, he would scream at me in his proper very British accent, "Rrrrrought recalculation", with what I would swear was a harrumph at the end.
Where was Thomas when you needed him…
So the story goes like this…
I occasionally get asked to do community service events, I liken them to missionary work as we like to say in the weaving world.  About the only way to get a younger audience in the handweaving world, to show them what a great skill this is to explore and all the really cool things you can do with a loom, you sort of have to go out find the audience, looking for every opportunity to bring the looms to them.  There aren't a lot of places to learn weaving, certainly I found weaving in college as many others of my generation, but that was three generations ago.  There aren't a lot of college weaving programs anymore, and I'd be shocked if there were more than a handful of High Schools that offer it.
Anyway, a local friend with a youth group asked me to do a demo and hands on activity with her teen youth group next Sunday night.  I'm always happy to help when I can, and she came over Tuesday to explore the direction we could take this given the audience and time frame.  All that was fine…
I got the idea of bringing just a simple two shaft kid's loom, I had one already warped sitting unloved on the shelf, I'm so not into two shafts, and I brought it down, dusted it off, and planned to head over to the venue with the loom in tow, plus examples of my work, and some colorful funky yarn, each participant can weave a couple of rows, and if necessary, I can leave the loom for a couple weeks.
So far so good…
I just needed to clean up the loom, and remove the beginning part of the weaving, since kids last worked on it (unsupervised) and it didn't look great.  I figured I'd just go back to the beginning, and all would be well.
As I was weaving in the header, a bright purple variegated yarn, I noticed that the heddles were fraying.  Those are the string things on the roller bars that guide the warp threads up and down.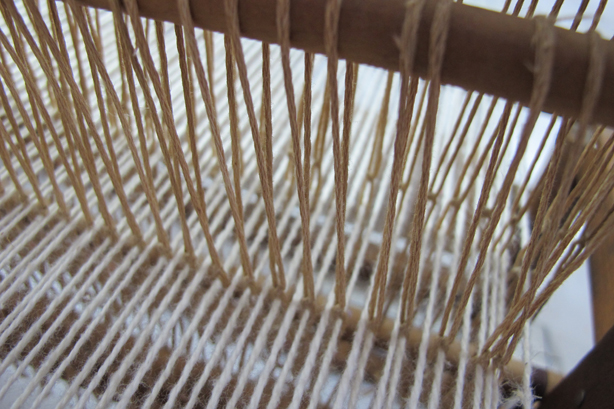 The heddles are probably original to the loom, which probably dates back to the 60′s, and they didn't look too happy.  I thought I could just dab a spot of glue on the tops of the worst offenders and all would hold through Sunday night. The heddles just disintegrated in my hands as I tried to grab a hold of them to put a dab of glue on the ends.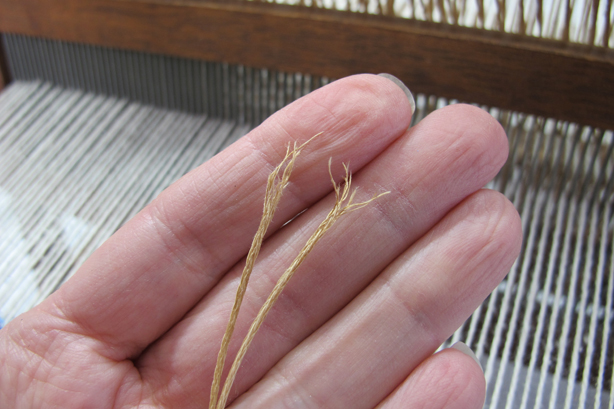 This is where Thomas needed to be in the room shouting "Rrrrrought recalculation…"
I really didn't want to unthread the loom, and make all new heddles and rethread the loom.
I really really didn't want to do this.
But if I didn't you know that the first kid that comes up to the loom, or worse, just from transit, there would be a number of popped heddles, and the whole evening would be really really unfortunate.  I've been teaching for a long time.  There are some things out of your control, and there are many many things in your control.  To deliberately take a loom that I knew had issues would be unforgivable.
So, I made a jig.  The heddle disintegrated as I banged in the nails.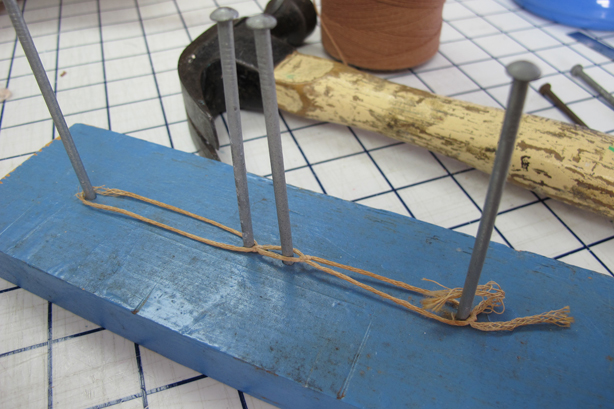 Then I made 96 new heddles.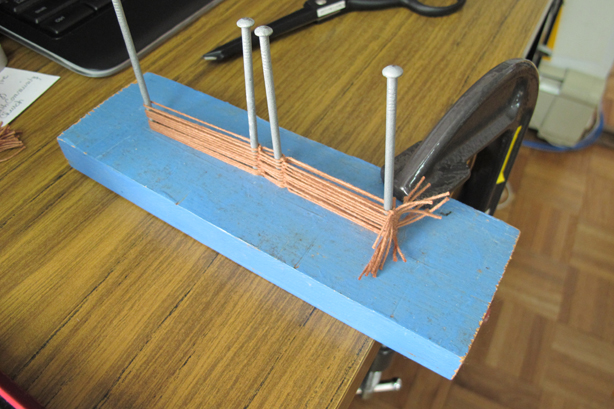 Then I replaced all the heddles on the heddle bars on the loom.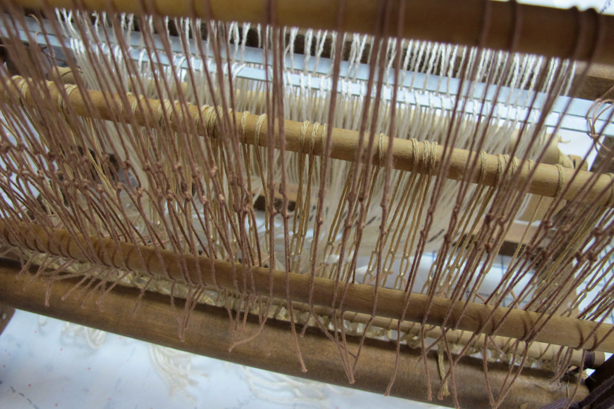 Then I re-threaded the loom.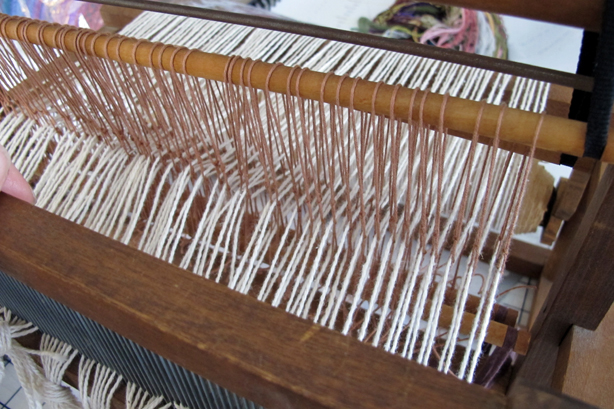 And now, the loom is ready to go, with the header rewoven, and all the heddles are new and sturdy and though things may still go awry, broken heddles won't be one of them.
Sigh…