Not only did the weather cooperate, but the unseasonably warm temperatures made last week's record breaking snowfall nearly disappear.  Saturday morning's Learn To Weave class sponsored by the Jockey Hollow Weavers went off without a hitch.
I had 14 new weavers, though some had a bit of experience on rigid heddle or inkle looms.  And it showed.  What a fantastic group!  Not only did they move through the warping of the little Structos with record speed, there were almost no mistakes in the threading.  Just a couple of crossed threads.  Pretty impressive.  That gave them more time to weave, and they made amazing little samplers.
I love teaching this class.  I love sharing one of my favorite things in life with a group of young and enthusiastic weaver wannabe's!  And we had a couple of mother/daughter teams, and a pair of co-workers, and everyone played well with each other.  Should all of life be like that.  They asked wonderful questions and seemed to really enjoy themselves.
I'll be teaching this one day beginning weaving class again in June, on the 25th at the famed Luna Parc in Sussex County, NJ. If you have never heard of Luna Parc, this should be on your bucket list if you are anywhere within three hundred miles.  Ricky only opens Luna Parc twice a year to the public, so this is a way of getting a sneak peak and actually taking a workshop in this fabulous work of art. Click here for more information.
Meanwhile, back at the ranch…
Last May, I spent the day demonstrating weaving at Peters Valley during their open house.  I set up one of the large Macomber's in their weaving studio and wove off the five yards of fabric while talking with the public. The fabric was inspired by a hand dyed rayon bouclé I won from Interlacements, for one of my garments on exhibit in Colorado a couple of years ago. I originally blogged about designing and weaving the fabric here.  To refresh your memory, here are a couple of images from last May.
The yardage sat rolled up on top of one of my looms, and kept moving from one to another and then to the cutting table and back, until I got sick of moving it and decided it should be a jacket.  And not just any jacket. I had been toying around with offering a shawl collar version of my workshop jacket pattern, though I'm not convinced it can be done in a three day class, it would be more suited to the five – seven day garment construction intensives.
Anyway, as I usually do, I poke around my stash for what would work with it, and I pulled out the most gorgeous lining I've ever seen that looks like it was custom dyed to match this fabric. I'm pretty sure I bought it at Thai Silks on a trip to the Bay Area of California a couple of years ago. It is a silk charmeuse. I also found a cool button, that was a bit larger than I wanted, but made me smile to add it to the mix.  I wanted to do the deluxe version of the shawl collar jacket which includes a full lining and bound buttonhole.  I'll try faster versions without the frills on commercial fabric, but for now, I dove in.  I had very little lining to work with, and it was some creative juggling to have enough.  But I did it.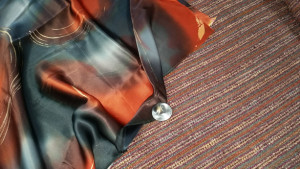 I'm basically happy with the jacket.  It is a little short waisted for me personally, but I had to go with what I did because of the small amount of yardage I had on the lining.  And I had to laugh when I had everything cut out and remembered as I started to sew, that the collar sections are a cut four, not a cut two like in the traditional jacket with the band.  Fortunately I had just enough length left in the handwoven to cut an additional two collars.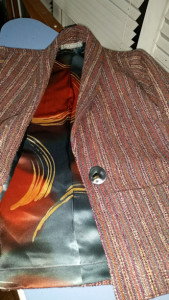 The jacket is pretty, I'll wear it tomorrow night to the guild meeting.  It was a great use of the rayon rick-rack bouclé from Interlacements.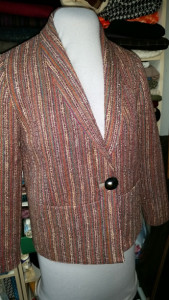 And I got through a 12 page contract that has been sitting on my desk for way too long.  It is due on Thursday, so Priority Mail is my friend today. I'll be teaching this summer in Indianapolis at the American Sewing Guild conference.  I love this conference, and was disappointed to have missed it last year because it overlapped the MAFA conference.  If you are in the mid-west, and you love to sew, this is a wonderful experience, more garment oriented then the quilt expos, with some wonderful instructors and seminars.
Stay tuned…
557 views
February 2nd, 2016 in
Blog Entries
|
Daryl\\\'s Blog has a new post
|

Print This Post
|
3 Comments