Part of what I love about what I do for a living is there is always something that pops up and commands my attention away from what I really want to do.
Part of what I hate about what I do for a living is there is always something that pops up and commands my attention away from what I really want to do.
Yeah, life is like that…
I wove a bit on my Christmas towels, cut out a knit dress, with my new Kai Serrated 8″ scissors (J'adore). The dress had something like 16 pieces and took all afternoon to cut out.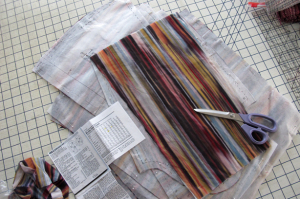 Then I headed up to the attic to get a cut of discard fabric I could use for a skirt muslin.
That's when I got derailed…
I have tried to look the other way this year concerning my weaving guild show and sale.  I know, that's not in the best interest of a team spirit, but I knocked myself out last year, pulling scraps and oddiments from the attic and reworking and sorting and bagging and making all sorts of new old work to sell off, and I did, and what was left I took to Peters Valley where it has mostly sold throughout the last year.  All of the garments eventually sold, and most of the smaller items, leaving a few scarves and mats that I picked up last weekend and brought home.  Frankly I just wasn't in the mood after the intense fall teaching schedule I had to even think about the guild sale.  Until I went to the guild meeting the 5th of November.
Sigh…
I was of course reminded that this is a team effort, that occurs once a year, and it is a prime opportunity to once again pull together a bunch of things taking space in the house, that I can rework and offer for sale and bring the joy of handweaving, etc, into someone else's life.
And so, while I was in the attic getting a cut of discard commercial fabric for a test skirt, I wandered over to the drawers where my daughter and I reworked the handwoven scrap stash last summer and pulled out stuff that we had located on yet another clean out.  I think really that it all breeds whilst I sleep.  I hurled it all down the attic steps.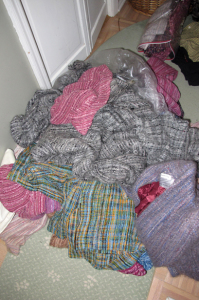 I brought armfuls of stuff I thought workable into the studio and piled it on the cutting table.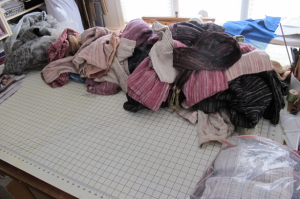 I told myself that I'd just do a few pieces to make another dent in my seemingly endless stash of stuff from my craft fair days.  Most of the garments left up there are either just unusable, or are usable but too small for anyone currently existing on this planet.  And there are still nice size chunks of handwoven fabric suitable for tote bags.
I grabbed a stack of the grey mohair scraps and a length of Fusible Tricot Interfacing…
I started to assemble the scraps in a gridded way.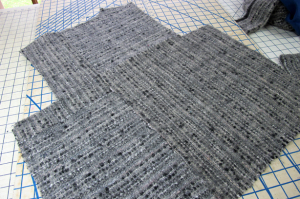 I added a linen trim to cover the butt joints after fusing the scraps onto the backing.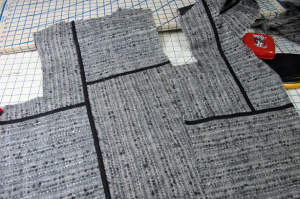 I assembled a vest.  This one is a large.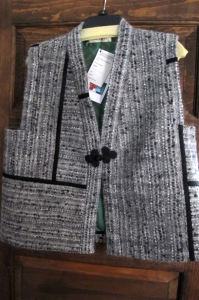 Then another.  This one use to be a top and skirt that though cute, wouldn't get around a 13 year old.  The vest is a size medium.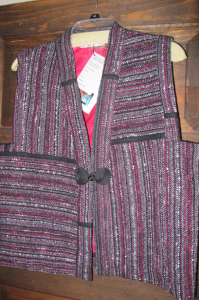 Then I reworked a dress, again, very cute but would fit no one, into this jacket.  It helped that there was a matching scarf to go with it that I used for front trim.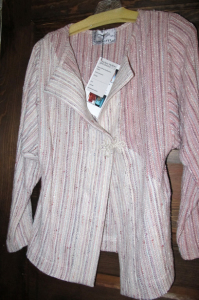 I made five tote bags.  The red one use to be a skirt.
And I took a couple of silk scarves that were less than attractive in their dye jobs, and tossed them in a pan with Spectra Art Tissue.  A vinegar spray wetted everything down, and I let it sit awhile.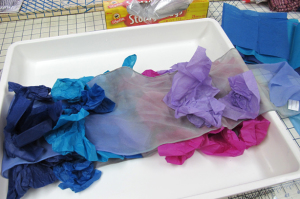 After drying and heat setting and then rinsing and drying again, I have some really pretty scarves that should round out my offerings for the guild sale.
And I found a dress from circa 1984 that I hadn't known was up there and though it is very wrinkled from being stuffed in a drawer, and needs some tweaking and restyling, it is quite adorable and fits me well and I will keep that one for myself in my never ending quest for a handwoven or hand knitted dress I can wear while traveling in the summer.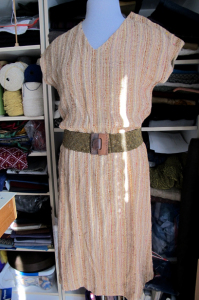 And so I've inventoried everything, printed some 95 computerized hangtags, pressed, hung, and labeled everything and I'm ready to pack.  The sale is really lovely, and if you live in the north Jersey area, come on down (or up, depending on your orientation), to the Jockey Hollow Weavers 21st Annual Exhibit and Sale.  Saturday November 15 10-5, and Sunday November 16th 10-4 at the Brookside Community Club (1 East Main St., Brookside, NJ).  Click here for more information.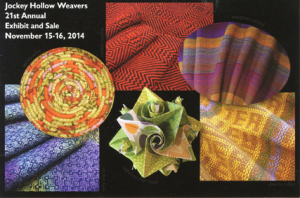 See you there!
380 views
November 14th, 2014 in
Blog Entries
|
Daryl\\\'s Blog has a new post
|

Print This Post
|
10 Comments