I printed the last of the handouts and monographs, bound the last of the handouts and monographs, cut and packaged the last of the interfacings and pattern paper and filled the boxes.  The last load is ready for shipping for my month on the road.  I did it.  I really did it.
There are small personal triumphs we experience in life, as anyone who has ever done anything with their hands can understand.  It may seem insignificant to someone else, even a family member, but to us, they are the things that make us smile and say to ourselves, "You did good."  Prepping for ten days in Colorado, preceded by a weekend in NC, which was moved to tomorrow because of weather, followed by a month on the west coast has been the hardest thing I've ever prepped for.  You can't know how much ink I went through, how many reams of paper, how many hundreds of yards of interfacing and pattern paper I've cut.  My daughter helped a bit last week when she was home, but mostly I did this alone.
I have of course that real fear that I've printed the wrong handout for the wrong group, or that I didn't print the right amount or that I sent the wrong box to the wrong person.  Or that a box won't make it.  These are the things that keep me awake at night.  That and flights that go haywire, missing bags, the usual stuff that makes a frequent traveler nuts.  This is where I relax, breathe deep, open the wine and say, "It is what it is, and I've done my best."  The rest is out of my hands.
But the gods smiled on me today, I got finished what I needed to complete before getting on a plane tomorrow.  This photo represents the second half of the April trip, everything that has to go to Washington State.  I shipped the California stuff out yesterday.  More than $125 in shipping costs, a couple of monster boxes, and a lot of hours of work.  So this all goes to poor Judy in Olympia WA.  Each box is for a different guild, I had spread sheets and cross checks and rechecks and if I made a mistake, I'm sorry.  You'll still learn something.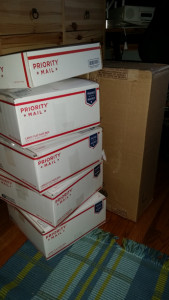 And so, I'm off to pack, and have a glass of wine, and work on my sweater.  I did well.
Stay tuned…
243 views
March 26th, 2015 in
Blog Entries
|
Daryl\\\'s Blog has a new post
|

Print This Post
|
8 Comments