Jealously is not usually part of my nature.  Really.  I'm normally contented, grateful for what I have and what I've built, really thankful that for the last nearly 35 years that I have had a home based business that allowed me flexibility to raise kids, tend a house, be available for travel with my husband, and generally juggle all of life in the best way possible.  It helps that I'm organized and that the studio is a room unto itself, and not spread all over the house.
Enter the green monster.  I said to my son last night, he who works for Target, that I was actually jealous of my two children, both in low paying jobs, at the bottom of their fields.  He had no idea where I was going with this, poor kid, but I'm jealous that right now, they get to leave the house for a defined job for a defined time frame, and have something called "days off".  I don't know what that term means and I haven't had a "day off" in well, ever?  Unless we were vacationing, but that sort of doesn't count because there is still an agenda.  Maybe my trip to Ven last summer, an island off the coast of Sweden.  We had no agenda, except to talk, sip wine, go for walks, cook dinner.  Maybe that's what a day off is.
As much as I have loved having a home based studio, right now it is fraught with tension and conflict because I can't escape the volume of paperwork facing me both because my husband is deceased and because he saved every paper that ever came into the house, and we have been here since 1982.  I can't escape the areas in the house that are unusable, because my husband had the equivalent of what is my studio, but throughout the rest of the house, in the form of electronics, tools, magazines, newspapers…  And then there is the garden.  I walk outside and have an anxiety attack.  I clearly need a gardener.  I can choose to spend my time out there, which is fun every so often for an hour, but really requires a full time commitment, or I can do what I love the most, what feeds my soul, and what really defines me.  Which means being in my studio.  Full time.  Like get up in the morning, get dressed, go to the studio, and break only for lunch or tea, or mail, or a trip to the post office to ship an order, or whatever makes me want to take a break.  The definitions have blurred and I'm struggling to find a new normal.
So I did what any self respecting fiber enthusiast would do in the face of extreme adversity, I got some yarn off the shelf and started playing.  It soothed and saved my soul.  I posted a photo of the yarn at the end of the previous blog post, but I'll save you the trouble and re-post it below.  Actually there is more to the story.  A few years ago, I attended a dye day with my weaving guild.  I brought in a couple of 10 yard warps, in cotton and/or rayon combinations.  I handpainted them and the resulting fabric was woven, sewed, exhibited, and worn.  But the story here is what to do with leftover dye.  And there was a lot of it that day.  I had a number of silk scarf blanks, which I did use as dye mops, and I probably sold them off at a guild sale.  But I also brought some skeins I wound and used them to mop up excess dye, essentially painting the skeins as well.
I never liked the combination of colors and they sat on my shelf for a number of years.  At the next dye day I attended, I brought the skeins back and overdyed the color areas that didn't make me happy.  Cause it is all about making me happy.
So that result is what I pulled off the shelf the other night, to see if I could focus enough to plan and figure out the specs for a fabric made from these skeins plus whatever else was on the shelf that could extend them.  I sat with a scale and calculator and actually counted the amount of actual ends in the skein since they were originally two yards, less about 10 percent for shrinkage from the dye process.  My brain was exploding and that was a really good thing under the circumstances.
I had skeins that were very different sizes and yields.  There was the 10/2 bamboo, I had about 900 yards of that, next to the cotton lace, with only about 250 yards,  but the cotton lace was really fat and bumpy.  I also had some cotton slub and a smoother cotton, but none really related in size, and I had to be creative in my sett and how I sleyed the yarn in the reed and with the actual structures I chose to combine.
I based the draft on something I designed back in 2012, with leftover warp threads from another dyed project.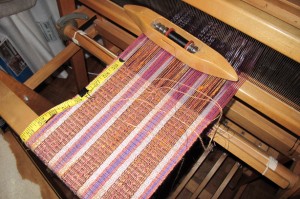 I tweaked the draft many times, to use as much of the warp I would be winding, and then, when I finally committed to winding the individual skeins into a warp, I found I had a few extra warp threads than my conservative calculations had allowed, and so I tweaked the draft yet again.  So here is a portion because I know I'll get lots of questions in the comments.  It is 8 shaft…

To get the colors to line up when winding warps with a hand painted skein of yarn, as long as it is engineered in a usable repeat, and not just random, I used a warping board and wound in the round.  There is no shifting with a warping board, unlike a warping mill (sorry for those of you reading this who are not weavers.  Stay tuned, there will be pretty pictures…)
As a result, I had eight different warps, which I combined in the reed, warping of course front to back.  It was challenging and distracting and I loved every minute of it.
Once I was sleyed, I threaded the heddles and then started the beaming process.  I squealed everytime a new combination of colors came through the loom.
Then I sampled wefts.  I ended up with some blue mill end, probably a rayon/linen combination, but it was neutral enough not to interfere with the structure and yarn variegation.  It is the last one on top.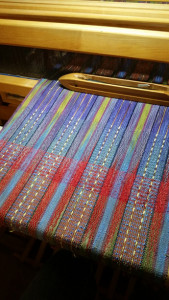 And now I'm happily weaving my fabric, which is about 18″ wide, narrow yardage, and there is probably 5.5 yards on the loom but with sampling and loom waste I'm hoping to get four yards once it is washed.  Then it will sit and age like fine wine, and I'll make some kind of garment from it, because well, that's what I do.
So I'm trying hard to stay in the studio, to not want everything done yesterday, because it will really really take me probably years to get this house cleaned out to where I want it to be.  I'm still waiting to hear back from the benefits department at my husband's company, I'm on the 7-10 day plan, "in 7-10 days you will hear from us outlining benefits you are entitled to…"  Meanwhile, my very efficient county government, if you can believe it, probated my husband's will in only 48 hours, including mailing time back to me.  Efficient government?  Well, everything in my life is upside down, why not an efficient government office?
I'm looking at some of that aged fabric I'm sitting on and wondering what sort of trouble I can get into with the sewing machine…
Stay tuned…
986 views
July 2nd, 2016 in
Blog Entries
|
Daryl\\\'s Blog has a new post
|

Print This Post
|
20 Comments