I can't let yesterday get too far away without acknowledging the milestone.  2/22/2002.  A day in infamy.  The day of my breast cancer diagnosis.  Changed my life forever and not necessarily in a bad way.  There were many good things to come out of that dark year, and it has been many years now since I went through it.  I'm sure now, if I had to go through it again, that the treatment would be completely different, but I survived.  And I not only survived, I lived.  Another 13 years.  It was with a bit of trepidation on Friday when I went for my routine colonoscopy, so close to the anniversary of my cancer diagnosis, but when I woke up from anesthesia, it was so incredible to hear, "Everything is fine".  Same last month with my mammography and sonogram.  There is always that lurking idea in the back of your mind that all is not OK with the world.
It has been a roller coaster ride these last 13 years.  I've grown so much, in age and in wisdom.  I've reached so many more students, in so many more venues.  I've started this blog, which is now more than 6 years old.  Technology has changed so much, and today I did my first webinar for Weaving Today, part of a five part series on Garment Construction for Handweavers.  I heard it went well, but the real feedback has yet to come in.  If you weren't available today for the live post, the recording will be available for download shortly.
My kids are all grown up now, they were young when I went through cancer, and I'm thrilled for the extra years to watch their journey.  I have so much to be grateful for, and they are pretty cool decent people.
I start my heavy duty spring travel on Friday, crossing my fingers that there are no travel/weather issues.  I'm heading to North Carolina where there is a spitting chance it is a touch warmer than the 0 degrees we have had here for the last month.  Wish me luck!
And the latest issue of Threads Magazine has just hit the newstand.  In it is my four page article on Staystitching, an old school sewing step that I still think is pretty critical but mostly lost on the newer generation of garment makers.  Check it out!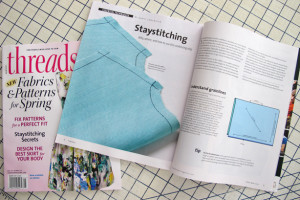 Stay tuned!
304 views
February 23rd, 2015 in
Blog Entries
|
Daryl\\\'s Blog has a new post
|

Print This Post
|
14 Comments