I've been trying to write this blog post all week, in my head, but there is just too much to say and too much I can't say, and this has been a really tough month.
Many many years ago, when my children were small, and I was in a difficult and dark time in my life, a wise friend suggested I start a gratitude journal.  Every night before bed I'd write about 3 or 4 things that I was thankful for.  Some nights it was tough.  But I learned to see promise and hope and gentleness in the smallest of things.  It became sort of habit that stayed with me for a few years.  It got me past the darkness.
And so, though I know it is sort of cheesy, I will post instead a gratitude list.  Because above all, I'm so freakin' happy that this month, actually this year, is almost over.
I'm grateful that my work takes me to places where I can step away from my life at home.  I get to eat different food, experience different weather, see other weavers' studios, see glorious landscapes so different than my own.  When I flew to California the beginning of the month, I took three days of steady rain with me.  They were really really grateful.  And when the rain finally stopped, and we stepped outside, I got to see for the first time the really Golden Hills of Northern California.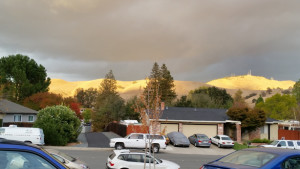 I'm grateful for all of my students.  I love them all.  They challenge me, they support me, they are my family, we share a common language.  I had a dozen students in Northern California for five days, and they all worked on their own agendas, so there isn't a fabulous class photo at the end of all they accomplished, in fact many of them just made a pile of test garments and will now go home and sew some pretty cool clothing.
There were of course a couple of actual garments from my own patterns, my lovely hostess made a jacket from commercial wool.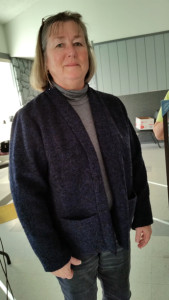 And there were a couple of vests, one still in process from a gorgeous handwoven, and a reversible long one made from an old quilted textile.
And there was a tunic, which though not finished at the close of the workshop, I received a photo of the finished garment just today.  I'm grateful for students who finish their garments and send me pictures!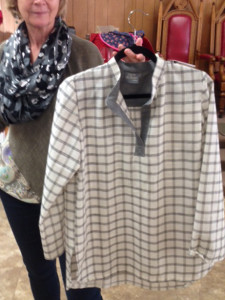 I'm grateful for gentle non-eventful flights home, and that I actually slept on a red eye.
I'm grateful I have things to knit to keep me entertained when I have to sit for hours.
I'm so grateful for my family.  They know how to step up to the plate.
Three days after my California trip, I finished up in the kitchen, tidied up as best I could and finished packing to leave yet again, this time for Florida.  My dishwasher exploded.  Most of you know my husband is not his usual self, this illness has really taken its toll on him, he looks so defeated.  The thought of dealing with a malfunctioning dishwasher the night before I left on a trip was probably enough to put him over the edge.  My children tried to help figure out what was wrong and just seeing the three of them put their heads together gave me such pride and gratitude.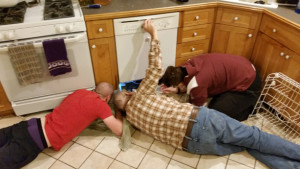 Unfortunately my wonderful husband tried to go out himself to Home Depot the next day to buy me a new dishwasher since I'd need it for Thanksgiving.  He collapsed, mostly a blood pressure thing related to dehydration, but I got the call as I was ready to board the plane for Florida.  My daughter raced over to the hospital and I found out that he was stable and my kids were there with him, when I turned my phone back on as I touched down in Orlando.  I tried to tell my husband that the dishwasher didn't matter.
After a night in the hospital, with some really supportive medical people, it became clear that someone had to step in.  My kids both have full time jobs, and we needed help.  I have never been so grateful for anyone in my entire life as I was when I found out that my sister sent her husband from Maryland to spend the weekend at my house, helping my husband develop meals he could eat, and just provide companionship as only two guys can do.  They got into all sorts of mischief.  And I got a new dishwasher.  (The magnet of the dog butt in the middle of the dishwasher is the indicator that what's inside is dirty.  We also have the dog's head to indicate that what's inside is clean.)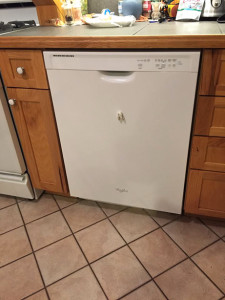 I'm grateful for a husband that no matter now bad he feels, and how devastating cancer treatment can be, he had a mission and by God he was going to accomplish it.
I'm grateful for yet another group of students from the Orlando Weavers Guild who were amazing, and fearless, and exhausted but tenacious, and in three days, produced some pretty amazing garments.  This was a jacket class, so the idea was they would all make my jacket pattern, unless they had previously made the jacket in another class, in which case I was debuting the tunic pattern I've spent the year working on. (Sorry Sister Carmelina, I know I'm not suppose to end a sentence with a preposition…  Mea Culpa)
There were some gorgeous jackets…
…and a couple of tunics (this one from a Kathryn Weber Blazing Shuttles hand dyed warp…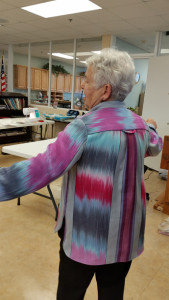 …and a gorgeous class photo of some great looking women wearing some great looking garments.  And as soon as the photo was shot they all ripped them off, since this was Orlando, where it never gets cold enough to wear outerwear!  (Yes, the person on the left made two jackets in three days!)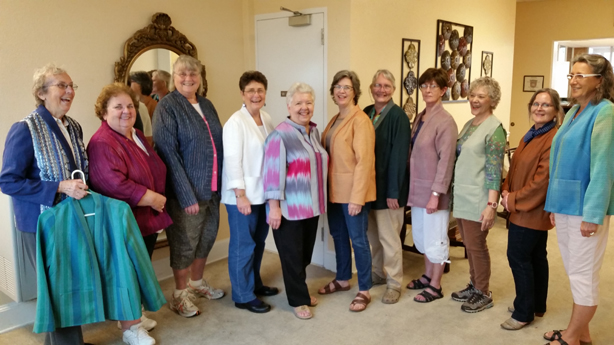 I'm grateful for all those who made my trips possible, and provided some pretty outstanding meals.  I'm grateful for fresh pomegranates right off the tree tucked into my suitcase straight from California.  I'm grateful for all the recipes shared.  I'm grateful for all the dinner parties and social gatherings and lots and lots of wine…
And I'm grateful when a garment from a long past workshop shows up at a guild meeting and I get to see it completely finished and the pride in the maker's eyes.  These three vests were made at an Orlando Weavers Guild workshop with me many years ago, and they still look amazing.
And two years ago, I taught a Weave a Memory class for the Florida Tropical Weavers Guild Conference, where participants brought family photos and we scanned them, printed them on silk and cut them into strips, reweaving them in a Theo Moorman technique.  My hostess  Bev was in that class, and her walls were full of these handwoven treasures, it was so great to see them finished and hanging.
This is a pretty important Thanksgiving for me. Last year, my son was deployed to the middle east.  We gathered around a computer to Skype with him for a time.  This year, he is home safe, and my daughter has finished college and is back home as well.  We are all there to support my husband through this difficult journey.  And so tomorrow, my sisters and their families are making the trek to my house to be with my  husband who couldn't have traveled to them like we usually do.  They are bringing turkey and all the trimmings.  They are amazing and I'm so grateful they are in my life.
And you dear readers.  I am grateful for all of you who tell me how much this blog means to you, and for those who post comments, and support my writing.  This is blog post 688.  I started it nearly seven years ago.  It means a lot that you still hang in there and follow my journey.
And most important, I am truly grateful for all of you who have sent wishes and prayers and cards and support as we navigate this journey of cancer.  Know that I love each and everyone of you and that we are a family and no one has to ever walk a journey like this alone.  In Thanksgiving…
486 views
November 25th, 2015 in
Blog Entries
|
Daryl\\\'s Blog has a new post
|

Print This Post
|
20 Comments