I know it has been awhile…
It isn't like I haven't been busy.
I polished off two articles for Handwoven Magazine.
But I can't show you.  They haven't been contracted and finalized yet.
I warped a loom for a sampler and two dishtowels for the beginning weaving class at Peters Valley the end of August.
But there really isn't anything to show yet.  Just a warp on the loom.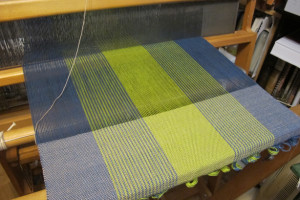 I am preparing proposals for a series of articles for another magazine.  Nothing to show.
I am finishing up a piece on the table loom.  I can't show you because it is a gift, and most likely the recipient reads this blog.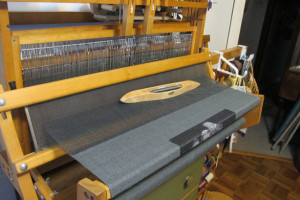 I spent the week cleaning out the old attic, tossing a lot of trash.  The kids were amazing.  We had our airconditioning system replaced.  I doubt you'd want to see pictures of my old attic with the replaced airconditioning.  But it is nice and cool in the studio now.
While the air conditioning guys were up in the attic, I noticed a beautiful sunbeam pouring into the attic.  Lovely as it was, that isn't a good thing.  I had to call a roofing guy to come in and patch the missing shingles on the ridge vent.  While he was up there he noticed this, and fixed that as well without charging me extra.  Yes, I know I need a new roof.  It is on the list.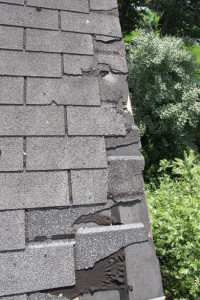 I weeded about 8 hours this week.  You don't want to see pictures of piles of weeds in the compost bin.
I started a new sweater, actually a knitted T-shirt.  It is pretty.  Pima cotton and tencel.  Premiere from Classic Elite Yarns.  Pattern is the Zoe Tee from C 2 Knits.  But it is only just started.  There really isn't anything to show.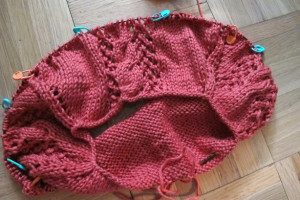 I played Baroque recorder on the porch today of a historic home in Montclair for a townwide music event with the Montclair Early Music Society.  There are probably photos around, but I couldn't take one of myself while I was playing.
So you'll have to settle with the fact that I was really busy doing an assortment of things.  Truth be told.  The days are lazy and lovely.  A much earned break from my spring from hell.  In all fairness that's probably a poor choice of words.  The spring was hugely busy and fantastic and I taught a lot of people and went a lot of places and saw my daughter graduate and my son return home from a deployment.  I had a fabulous 60th birthday but I'm very very tired.  And wisely I didn't book anything for June, which was a blessing since so much work had to be done around the house.  And I'm really really excited because I'm going to leave next Monday the 29th for a real honest to goodness vacation.  The lazy kind.  The kind where you decompress, chill, read, knit, chat with friends, and just enjoy a good long rest.  I'm going to an island.  Really.  Between Copenhagen and Landskrona, Sweden.  The island is called Ven.  I'm going with my sister and we are staying with my oldest friend Annika, at her family's summer home.  Annika was a Swedish Exchange student that lived with our family when I was in High School.  We have stayed in touch.  We have seen each other many times over the last 35 years.  And I have been to Ven, in 1977, when I graduated from college.  It has been on my bucket list to return. So one of my sisters is going with me, and we are flying into Copenhagen via Geneva, and we are heading to Ven by boat.  I hope to come home rested and clear headed and ready to tackle the late summer and fall schedule.  And getting estimates for a new roof.  And cooking up all that produce from the garden…
Stay tuned…
313 views
June 21st, 2015 in
Blog Entries
|
Daryl\\\'s Blog has a new post
|

Print This Post
|
3 Comments