Last Thursday through Sunday was an annual event that takes place in NJ, called the Wool Walk.  I have not participated in the past.  I don't know why…
Most of the state's yarn shops get together and put out promo materials and remain open for four days (many regularly close on Sundays but remained open for this event).  NJ isn't that big, so it is entirely possible to actually visit all 14 shops on the list.  The furthest shops are only a couple of hours apart.  It is a very cool idea.  I have not participated in the past.  I don't know why…
Actually, I admit, although reluctantly, that I've never been in a single one of the local yarn shops in the state of NJ, except the Woolery in South Jersey, where I taught so many years ago I can't actually remember, but not since then.  I live about two hours away.
A friend sent me the information and the list of participating local yarn shops.  I looked over the list and put it aside.  I'm too focused on prepping for my trip Sunday to even ponder this…
I was tidying up my inbox and the list came up again.  I looked over the list again, and noted to self that there was a yarn shop, unknown to me, called Trillium, in Morristown, right behind the Century 21 department store, about two blocks from where I practice with my recorder consort every Sunday.  The shop isn't open on Sunday's usually, but for this event, it was.  I decided that in the spirit of things, it would take me five minutes to walk over and check it out, and this followed me home.  The shop was completely charming and Beverly was a delight.
It was 20% off.  And I've never knitted with Llama.  And there were nine balls.
Let me just mention here that I don't know the area yarn shops, not because I'm a yarn snob or a yarn.com Webs junkie.  I travel the country for my job.  And it is not unusual to visit a local yarn shop on the road.  And it isn't unusual for things to follow me home because the sale bins always call to me.  I always raid the sale shelf at Sievers when I first arrive for teaching, and grab whatever makes sense I know I'll use.  It is the way I replenish the stash.  I do this with fabric stores as well.  I NEVER shop for a project.  Except once when I was traveling and had finished off what I brought to knit.  I was just getting back into knitting and the shop in Mississippi sold me my first and only sock pattern, the yarn and needles, and I've managed 12 pairs of socks since that fateful day.
Instead, when I enter a fabric store or yarn shop, I look at the sale wall.  It narrows down the possibilities for me exponentially.  I get way too overwhelmed looking at thousands of yarns/fabrics, and where does one actually begin.  So it isn't unusual for me to buy an entire bin of remnants when I'm in a fabric store, I'll figure out later what I'm going to do with them.  And I do.   Really.  It is the way I like to design, pull something out and figure out what it goes with and what I can make with it.  So the Llama goes into the stash (I have almost no knitting stash to speak of, I'm using the last of the yarn I bought last September at Sievers, well ahead of schedule).  As a matter of fact, I finally finished the Drops First Lady skirt I started the end of last year. Elsebeth Lavold Silky Wool.  I'm knitting up the last three skeins of Blue Elsebeth Lavold Silky Wool into a summer tank.  Should be finished by the time I arrive in Seattle on Sunday.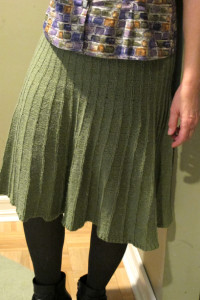 Anyway, I digress…
So I remembered that there was a really well known knitting shop, also on the list, about 10 miles east in Madison called The Blue Purl.  It was a lovely day for a drive, and well, it made no sense to not at least look at the place.
And then this happened…
When  I realized that the yarn from the sale wall was actually nearly 40% off, I went back over and added this.
And when I got home, I found a freebee  skein in a little package with the Blue Purl label on it, tucked into my shopping bag. J'adore.
So now I'm merely another 11 miles from a yarn shop in Summit called Wool and Grace.  How could I not?
I loved the shop, a beehive of activity, and then I spotted the baskets by the window seat in the front.  50% off…  There was nothing to be done but pull out my slightly smoking Mastercard…
I bought this…
And this…
And then this…
Most likely I'll end up weaving with that yarn.
I'm sure it is pretty obvious I had a fantastic day, and came scurrying home with my little treasures, and have been dreaming of what to knit with all these beauties.  The silk is already spoken for… I have the C2Knit patterns pulled and I'll be balling up at least one group shortly because well I'll be doing a lot of traveling the next ten days, and I expect there will be time to knit.  Summer is coming…
Stay tuned…
558 views
April 22nd, 2016 in
Blog Entries
|
Daryl\\\'s Blog has a new post
|

Print This Post
|
7 Comments