After a brief trip to Massachusetts, and a horrific drive home late Wednesday night in a torrential rain storm, I've spent most of the last couple days in and out of slow motion, sleeping when I can, and attempting to actually do things like clean my house (I haven't been successful yet), laundry (better success there), show up for a few social events (mostly in a foggy state) and generally force myself into a state where the adrenaline isn't surging full tilt. It is harder than it looks.
It was delightful to see my daughter, and she was a great help during the evening presentation I gave to the Pioneer Valley Guild, which is her guild, and meets at WEBS. I called her Vanna Brianna.  I spent most of Tuesday afternoon, checking out all the cool yarn, great deals, and trying really hard not to blow out my credit card.  I was only minimally successful.
One of my goals while I was up there was to figure out this year's Christmas towel run which was catapulted to the top of my to do list when I found out that WEBS brought in a new line of Cottolin to replace their old line which was discontinued some time last spring.  Similar weight and content, 60% organic cotton and 40% linen, the Cottolin is from Brassard, brought in from Canada.  This year's inspiration comes from a towel project I saw in the Sept/Oct issue of Handwoven magazine.  My intent was to use up what I already had, partial cones of the old 8/2 Cotlin, so all I'd really have to do was buy the weft.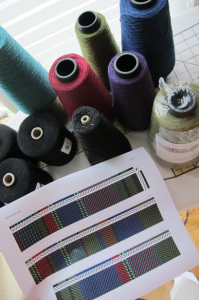 The Pioneer Guild, like many weaving guilds in the north east, is a bit like family, I know many of the weavers, I've taught for this guild a few times over the years, so it was a bit like a reunion, except now my daughter is part of that family as well.  I gave them a lecture called Weave a Memory, and showed how I print images on cloth, and then cut them up and weave them back together again.  It is the same topic I did for Florida Tropical this past spring, except there I did it as a workshop.
Wednesday I taught a workshop for them, and I think of all the one day workshops I give, this is my most favorite.  I did the Color and Inspiration workshop, I hear over and over again how much inspiration participants get from the workshop and how pleased they are about the confidence they gain in putting together combinations of yarn.  I gave this class last month to an American Sewing Guild group in Kentucky, almost none of them were weavers and yet the class still works well.  This group were primarily weavers, and they dove right in and followed the directions for each of my exercises.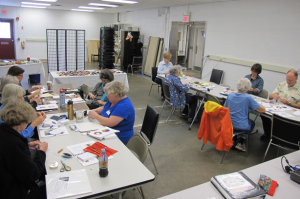 I had them explore value, and complementary colors, and I have them create a card that they think is intentionally ugly.  The card gets reworked by someone else in the group, and the results are always surprising and fun.  I'll let you figure out which is the before and after.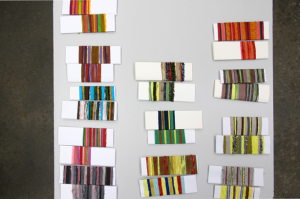 Then we moved into working with Color-aid papers to help simplify an image and select a palette to work from.  This helps if you haven't amassed a stash of thrums!
And at the end, they created a gorgeous warp sequence inspired by the image, they were all so lovely and rich and thoughtful.
So now I'm home for a couple of weeks, before I head to Atlanta and my last trip of the year.  I was able to attend a meeting of a local bobbin lace group, so in anticipation of that, I dug through my extensive collection of lace pillows, all with projects in various stages of progress, and my goal in the next year or two is to clear some of these pillows.  The problem is, like anything you put down for a few years, I have no idea how I did the patterns.  This little one I was able to figure out, after searching through my lace books and finding the original pattern.  It is one from the Stout book, and I remember setting it up using embroidery floss, single strand, along with some four strand floss for the gimp.  I love lace in color.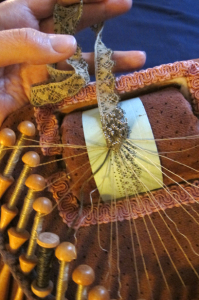 And Thursday night, I dragged this pillow out from the top of my closet, where I took a look at it and didn't even attempt to understand how I did it.  I took it along to the lace group, where Pat graciously and competently set me on a forward path.  I am about half finished the hankie, working through my second corner, and again, I love lace in color.  This is a Russian pattern, from a class I took with Holly Van Sciver at an Ithaca Lace Day many many years ago, it may have been 10.  Embarrassing…  It is time…
And in anticipation of my critique group, which meets on Tuesday after a many months hiatus, of which I've done no new art work, I decided to card up a batch of batts, and make a felted mat that I'll cut up and reassemble to play more with my Chromosome series.
I'll eventually clean my house, and eventually catch up on all my sleep, and eventually calm my constant adrenaline rush.  Sleep helps.  And I'm doing a lot of it.  Meanwhile, I have all kinds of projects to keep me happy and moving in a forward direction.
Stay tuned…
388 views
October 18th, 2014 in
Blog Entries
|
Daryl\\\'s Blog has a new post
|

Print This Post
|
2 Comments