Purchased gifts. Done.
12 yards of Dishtowels, woven, cut apart, hemmed. Done.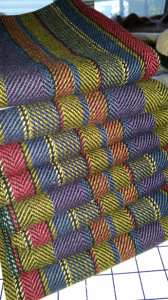 Annual Christmas missive, written, printed, stuffed, stamped and mailed.  (Thanks Brianna!) All 150 letters… Done (if you are curious, click here…)
Tree decorated. Dog happy.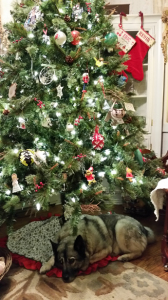 Gifts wrapped.  Thank you Brianna.
Baby gate installed after dogs unwrapped gifts and ate some of them.  Sigh…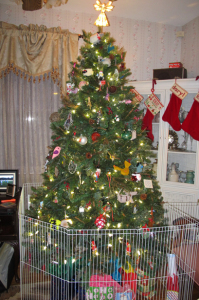 Warps wound for 1 Day Beginning Weaving class through Jockey Hollow Weavers, Jan 10th (which incidentally is now full, starting a waiting list.) There is another beginning weaving class forming in the Princeton area in February, click here for details.
Brianna wound my warps for the class, and came up with a great idea when winding alternate colors of yarn using a mill.  She clamped a small piece of wood to one of the inside struts drilled out to hold a fat dowel.  The second cone of yarn sits inside the mill when not in use.  They are easily swapped out when the next color is needed.  All this education I'm paying for and really, she just needs to come work for me…
Knitted Alpaca Hoody Vest done. (C2Knits Pattern, handspun alpaca from Woodsedge Wools in NJ)
Pattern selected for mohair yardage.  I ended up using the McCall's with modifications.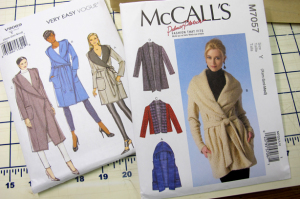 Fabric laid across the floor of my studio to "get a plan".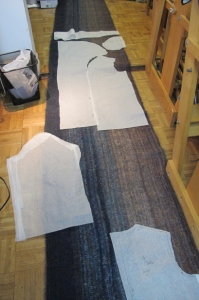 Fabric cut.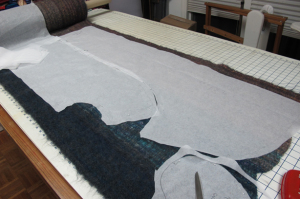 Garment sewn together.
And now I have the endless job of finishing off all the seams with a blanket stitch and the perimeter of the coat with a crab stitch in Crochet.
It has been a satisfying couple of weeks…
Oh, and hired back my old housekeeper.  Done…
Stay tuned…
129 views
December 21st, 2014 in
Blog Entries
|
Daryl\\\'s Blog has a new post
|

Print This Post
|
3 Comments