But damn, this was a tough week…
I was looking forward to a few days at the beach in Delaware, with my sister and her family.  Not as long as I would have liked, but a couple of days was better than nothing.  The trip on the Cape May/Lewes Ferry was a bit rough, so rough in fact I couldn't knit, just struggled not to hurl my cookies.  It was pretty stormy in the Atlantic, and in fact it rained most of the first day and a half.  Wednesday the sun came out and we headed to the beach.  The surf was still pretty rough, but I got a good sister's pic, so great to spend time with her, and a couple of photos of the surf…
And then this happened…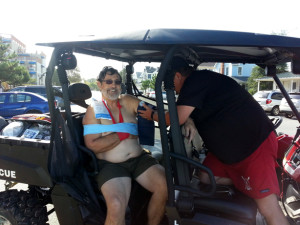 My poor husband got nailed by a rogue wave, as he was body surfing into the shoreline.  Broke his collarbone.  He got his first ever ambulance ride after being taken off the beach in a Polaris.  Lots of pain killers later, I left him with my sister and her family, and headed Thursday morning to Washington DC and the Potomac Fiber Guild where I was scheduled to do a series of workshops.  I felt like the bad wife, leaving everyone behind, but there wasn't much I could do.
After a miscommunication about what to bring to the class, and a double booking of the room, we finally settled in for a one day Inkle Weaving Class.  I snapped a couple of shots of the students warping, but completely forgot to get any photos of them at work, which was a shame because the warps were so pretty.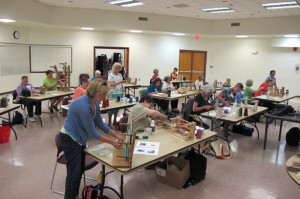 I did grab one of Carla's band in the parking lot afterwards.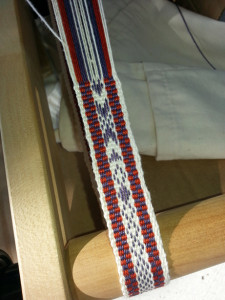 Saturday morning I gave a lecture on Color and Inspiration to the Potomac Guild, the room was full and everyone seemed to enjoy the talk.  I love this guild, and we go way back.  I gave workshops to them many many years ago before anyone other than the mid-Atlantic region had heard of me.  So it was fun to come back and see so many familiar faces.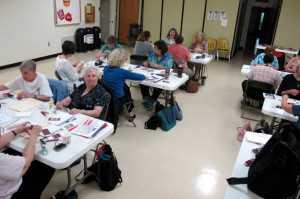 In the afternoon we did a follow up workshop in color, using yarn wraps and Color-Aid blocks.  I gave them lots of exercises.
There were some beautiful yarn wraps of the images they interpreted towards the end of the day.
Saturday night Carla took me to dinner, and I had a plate of marinated fresh anchovies and I thought I'd just about died and gone to heaven.  Food porn.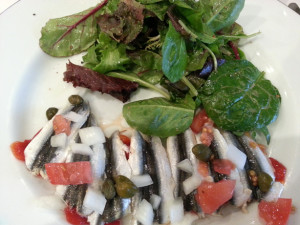 Sunday and Monday, we gathered for a two day Garment Construction Marathon Intensive.  The space was enormous, and easy to move around in.  I had a full house and lots of questions and lots of feedback.  There was a group of felters and I spent a lot of time with them focusing on their specific needs and fabrics.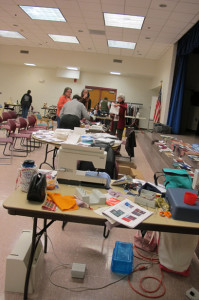 The participants made lots of samples.
They all played with the Fasturn kit for turning tubes.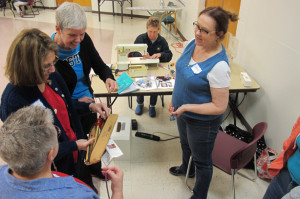 And Monday night, I brought my lovely hostess Claudia back to her house, for one last dinner, said goodbye to her family, and got in the car and drove the four and a half hours home.  Meanwhile, my sister and her husband left Delaware Monday morning to drive my husband home, since he had a second car.  I can't ever thank my sister enough for all she did in my absence, and I can't thank Claudia and her family enough for hosting me and making me so comfortable and keeping me well fed.  It made the trip doable.
No rest though, Tuesday I jumped in head first for the final prep for my trip to Kentucky tomorrow morning, and the American Sewing Guild chapter in Louisville.  I still haven't gotten through some 50 emails that were waiting for me, yes I owe some of you contracts.  I'm working on it.
I'm exhausted, and barely functioning on two cylinders, and yet, I have a job to do it and I have to just put one foot in front of the other and follow through.  So you can imagine that I was not a happy camper when this happened.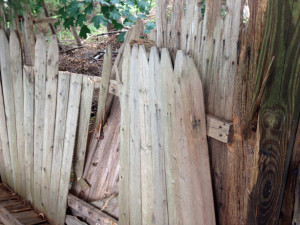 Unbeknownst to us, apparently a deer crashed through the front fence. One of the dogs escaped and was brought home by a kind neighbor. We repaired the fence which was a bit of a feat for my husband with a broken collarbone. What we didn't know was the deer crashed through and exited the fence at the rear of the property, splintering it into shards. (Photo above) We discovered that when once again a kind neighbor brought one of the dogs home. The other one disappeared. Thank goodness we live in a small town where everyone knows your name and your dogs. The second one turned up on a neighbor's porch and was led back home by that neighbor. Thanks neighbors! Fence is once again secure. 
And so I'm mostly packed, and I have thrown up a blog post, and I've gotten through most of the to do list, and I'm starting on prep for next week, because, though I fly back from Louisville on Sunday, I leave again on Wednesday for Sievers in Wisconsin, and I'll be gone until October 6th.  So all those contracts must be dealt with, work has to be shipped to Blue Ridge Fiber Show, (and actually I just realized one of the pieces isn't finished), and bills must be paid, and Monographs and handouts must be shipped, and I have basically 48 hours to do all this.  I'd fire my booking agent, but it is tough to fire yourself when you are self employed.  On my list is to mow the lawn, it needs it, and my husband can't for obvious reasons but I'm thinking it just isn't going to get done.
I'm really looking forward to December.  There is nothing on the calendar except a holiday or two. There are no yard/garden issues, NO CUCUMBERS, and I'm hoping a little sanity will return…

Stay tuned…
202 views
September 18th, 2014 in
Blog Entries
|
Email This Post
|

Print This Post
|
10 Comments