The days are going so fast I can't believe I just filed my first quarter sales tax report for 2014.  We are into spring, though you couldn't tell by the weather today, it has dropped down 30 degrees in just a few hours and it is damp and cold and frightful.  The poor daffodils are regretting opening up into bloom not 24 hours ago.
But the last couple of weekends I've been able to enjoy more spring like temps and had some great adventures as well.
First was the speed tapestry class at Brook Falls Farm, a gorgeous setting, cozy space, and eager students.  We talked about tapestry and how it is usually worked in reverse…
Then they all took small frame looms and filled the warp quickly with roving.
That allowed them to go back "into" the piece and create design areas as time allowed.  It was great watching students with no fiber experience just play with yarn and chat, and listen to background music, and enjoy the afternoon.  Thanks Deb D'Anne for a wonderful opportunity!
This past weekend I dressed up in my 1800′s costume (Folkwear Gibson Girl Blouse and Walking Skirt). I know I was about 125 years off the mark, but hey, it's what I have available.  I joined other weavers, spinners and lacemakers from local guilds and demonstrated the fiber arts at a local historic site, used by George Washington and Alexander Hamilton in their travels through NJ during the Revolutionary War. NJ is full of places where "George Washington Slept Here".  The Henry Doremus House in Montville is about a mile down the road from me.
Saturday I demonstrated bobbin lace. I reconnected with a couple other lace makers, which was too coincidental considering I've just dug out the old lace pillows to teach my intern.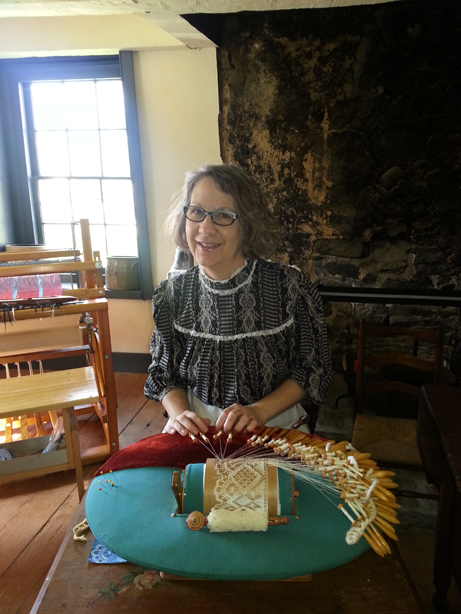 Sunday I demonstrated spinning.  If you've never demoed at a historic site, it is lots of fun, and I remember working at the Dey Mansion in Totowa way back when I was in college, showing the public spinning.  I should make an effort to do this more often.  (I know the space dyed roving isn't quite period, but the public loved it.)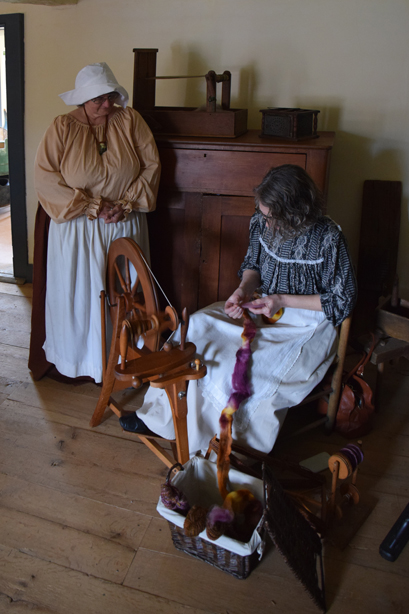 And I did manage to sit down Sunday night and finish up my blouse, Vogue 1260.  Can't wait until it is short sleeve blouse weather…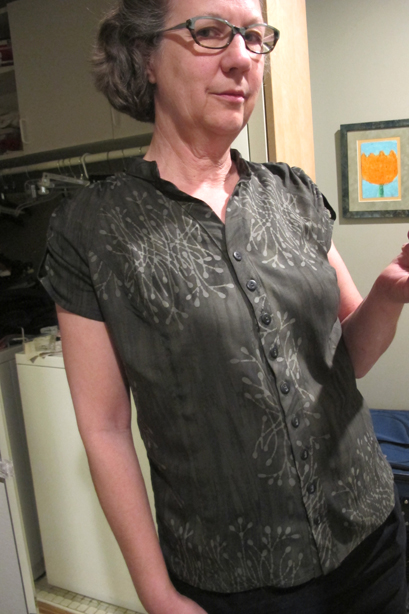 Stay tuned…
283 views
April 15th, 2014 in
Blog Entries
|
Email This Post
|

Print This Post
|
4 Comments